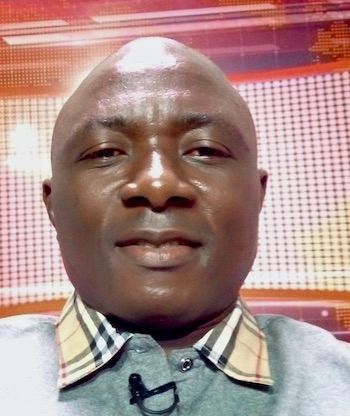 Mahmud Tim Kargbo
Summary: Mahmud Tim Kargbo is a freelance reporter in Sierra Leone who has been interrogated, arrested, and detained over a dozen times in connection with his work. His fearless reporting has exposed many injustices and corrupt practices in Sierra Leone. Kargo believes that Sierra Leone's Anti-Corruption law, which treats public assets declaration of Public Officers as secret and confidential, defeats the very purpose of fighting corruption. His efforts have also resulted in the repeal of the Criminal Libel law that had persecuted independent journalists like himself.
Profile: Mahmud Tim Kargbo is a freelance journalist and media personality whose fearless work has for years exposed injustice and corrupt practices in Sierra Leone. Kargbo embodies objective and credible journalism, and he represents an unbiased voice that continually seeks justice.
Kargbo is the Deputy Chief Executive Officer for the Centre for Research Documentation Policy Studies and Development of Law. In 2004, he founded Youth Alliance for Justice and Peace, which seeks to protect the vulnerable and poor people within Sierra Leone via rehabilitation services, technological assistance, advocacy, and public education as an essential element of human rights, health, peace, and security.
Since then, he has challenged the government, often successfully—and paid the price for his "audacity."
In 2013, former President Ernest Bai Koroma of Sierra Leone signed off on a military treaty with the Islamic Gulf states without going through Parliament. Kargbo challenged the move as unconstitutional: According to the Constitution of Sierra Leone, only the Parliament has the power to sign off on such a treaty. The treaty was eventually abandoned due to Kargbo's persistent advocacy and never took effect.
In 2015, Kargbo was arrested, jailed, but later released for describing as unconstitutional the President's removal of his Vice-President.
In 2016, Kargbo challenged the Minister of Transport and Aviation after the Minister had signed off on the operation of Fly Sierra Leone, an enterprise established by two well-connected Middle Eastern businessmen who had been granted Sierra Leonean passports and citizenship. Kargbo revealed that the airline had insufficient (or no) investment and working capital to have been approved by the government to register in the country and use the nation's flag. Just after 100 days of flying, the bottom of one of the planes fell off and the company was grounded for good.
In September 2019, Kargbo was arrested without a warrant and detained for two days. He had received information in respect of a complaint against him through the Public Relations Officer for the Sierra Leone Judiciary; supposedly, Kargbo had published false news and defamed a sitting judge of the appellate court. He was released without charge after making a written apology to the judge. A week later, however, he was arrested again and detained for three days, this time on 44 counts of criminal defamation and libel under the 1965 Public Order Act. He was facing a jail term of up to three years, but, after another apology—this time on video—he was granted bail and released.
The following year, on July 23, 2020, Parliament repealed the 1965 Public Order Act; three months after that, a new law was passed that repealed criminal libel.
Even with these successes, particularly the repeal of criminal libel, Kargbo still has hostile encounters with the government, the latest occurring on April 26, 2021. Kargbo was charged at a Magistrate Court in Freetown in relation to an alleged defamation suit entered against him by Sierra Leone's Assistant Inspector General of Police; this stems from Kargbo's allegations of fraud and abuse of power by that person. If convicted, Kargbo risks a prison sentence of up to three months.
In addition to these arrests, Kargbo continually faces threats from politicians and others who want to silence him. Despite no longer feeling safe, he defies these threats:
"I believe that my loyalty lies with my country and the truth, and that means reporting on issues of injustice and corruption, even if it touches on the high and mighty in our society. . . . I continue to face scores of threats as a result of my independent ways of handling national issues."
It is why Mahmud Tim Kargbo is known by many in Sierra Leone as "the fearless freelance journalist".