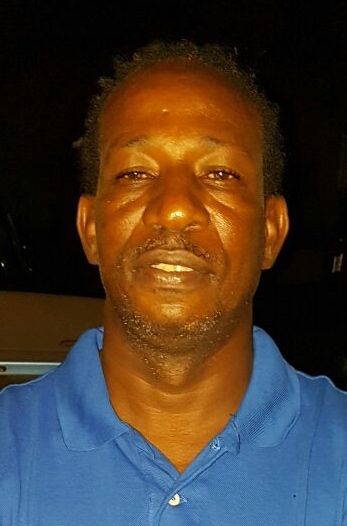 Summary: Mamaja Jalloh (aka DJ Base) is a popular radio disc jockey in Sierra Leone who's worked for years to make people aware of issues that affect their lives—from protecting women from sexual assault to the misappropriation of government funds. For his views, which sometimes run counter to the government, he's been threatened, harassed, and beaten up by police.
Profile: Under the name DJ Base, Mamaja Jalloh is probably the most famous radio disc jockey in Sierra Leone. But he's also an indomitable voice for freedom and justice. Jalloh shares with his listeners not only music but also facts, opinions, and advocacy. This has put his life in danger on numerous occasions, but he's well aware that people rely on him for reporting the truth, and he keeps doing it.
Eager to find ways to fight for the common people and to make their voices heard, Jalloh began working at the Radio Democracy station in 1999. "I love broadcasting." Jalloh said then, "and I think radio enables me to reach out to many with words of hope, courage and transformation."
Two years later, he was asked by the United Nations Mission in Sierra Leone to work at the Mission's radio station, charged with helping build peace after a brutal ten-year civil war. That's where he began his radio program, Night Line, which aired for eight hours, five days a week; the program continues today, with up to five million listeners. On the program, Jalloh discusses all kinds of issues related to the development of Sierra Leone, including issues regarding the physically challenged, youth groups, the poor, and many more.
Jalloh quickly became famous throughout the country; his support was sought by political candidates, and his opinions were sought by voters. He gave talks and shared his experiences around the world, including the United States.
It's not been an easy ride, though. Jalloh's positions on some issues did not always jibe with those of the government. In 2002, he began a crusade condemning rape and other crimes against women, and years later he fought hard to pass the Sexual Offences Act; it was enacted in 2014. He lobbied for government accountability and for increased funding of the Sierra Leone Judiciary; in 2015, the government finally upped its judicial budget by over 60 percent. In 2013, Jalloh called for justice in the health care delivery system; he alleged that 17 people from governmental agencies had misappropriated millions of dollars slated for health services. Eventually, the 17 were tried; some were jailed, and others were fined.
As a result of crusades like these, Jalloh has been threatened, harassed, and beaten. In 2004, he was attacked by the police, leaving him with bruises and a swollen mouth. A year later, Jalloh's home was raided and looted—this after anonymous threatening text messages from people who didn't like what he had to say on his radio show. And in January 2017, Jalloh woke up to blood splashed all over his home; the assailants have never been identified.
"I know that these are all threats aimed at stopping me from sticking my neck out for the common good," says Jalloh, "but I am not scared, neither deterred."
The threats came not just from political opponents. During the Ebola outbreak of 2014, even with the high risk of infection, Jalloh knew his work must stay anchored in interactions with the public. So he kept interacting, risking his life to keep his show on the air.
Many Sierra Leoneans credit their "DJ Base" with being instrumental in opening the eyes of many in the country to a new social awareness perspective. Through his popular program, he's helped take ideals of good governance, democracy, responsibility and accountability to a whole new level.
Mamaja Jalloh continues to work for his country in the way he knows best: by seizing the spotlight and making people aware of issues that affect their lives. His mission is clear: "Let's understand that Sierra Leone is a paradise on this earth, he says. "No contribution is too small to make our country especially, and the continent of Africa generally, a better place. Let's stop the fussing and fighting, corruption and hatred, and let love spread."