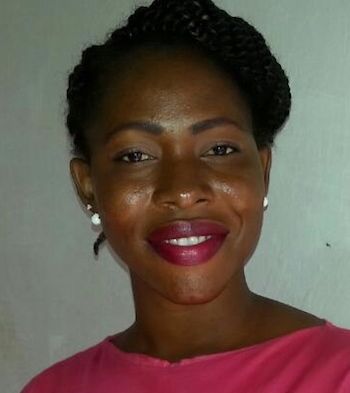 Summary: Martha Kargbo is a young Sierra Leonean print and broadcast journalist and blogger who defends freedom of the media and calls on the government of Sierra Leone to meet the demands of its citizens. She risked her life reporting on the Ebola epidemic and is constantly harassed for reporting on crimes that higher-ups would prefer not to hear about.
Profile: Martha Kargbo is a young print and broadcast journalist and blogger in Sierra Leone, who fearlessly answers to the highest callings of that profession. In 2014, Kargbo reported on the Ebola outbreak from the country's most infected communities. Why? "I was covering assignments to save lives and rid my country of the Ebola disease," she says. It's a simple answer, but it has grave implications. Kargbo was determined to communicate the means of preventing Ebola, regardless of the threats to her own health. On several occasions, she says, she had "death staring me in the face". As a result of her reporting on the significance of the disease and the way to reduce its effects, Kargbo no doubt saved lives. "The real work as a journalist in those trying times," she said, "made us do the impossible."
Kargbo's brave efforts didn't end with Ebola. She is a tireless advocate for better living conditions for Sierra Leoneans and for freedom of the press. Neither effort is easy.
In 2015, for example, Kargbo reported on a religious leader who accused of raping and impregnating a 14-year-old girl; the story was published by a United Kingdom on-line news organization called War and Peace Reporting. "Sierra Leonean citizens see religious leaders as untouchable and sacred, and no matter what they do, exposing them seem like a taboo," Martha said. But she went ahead with her story. For her effort Kargbo received insults and threats and was also brought before Sierra Leone's Independent Media Commission (IMC). While Kargbo was vindicated by the commission, her reputation was at least temporarily tarnished, and anonymous people continued to harass her—in part because she was a woman challenging the status quo.
Kargbo began her broadcast journalism career as a volunteer; in 2009 she became a full-time radio host on Premier Media. She also anchored the country's most popular radio talk show, "Leh di people talk," which provided a platform to engage the country's ruling class to answer critical questions relating to citizens welfare and to advocate for journalists" rights. She also established the Martha.com blog to show how Sierra Leoneans can stand up to neglect and ensure better living conditions, and to champion freedom of the press (she joins media campaigns and marches, advocating for fellow journalists who have been beaten up, abused and unlawfully arrested and detained for merely doing their jobs).
Currently, Kargbo heads a current affairs program on a local radio station named Sky Radio.
Martha Kargbo embodies the nature of fearless journalism, whether exposing herself to disease in order to prevent more disease, reporting on crimes even if they challenge the "higher-ups", or promoting and defending a free press. "Regardless of the danger involved in our work, especially during the Ebola outbreak," she has said, "I will not give up on defending media freedom and the ordinary Sierra Leonean and also in defending and promoting human rights activities affecting Sierra Leone communities."