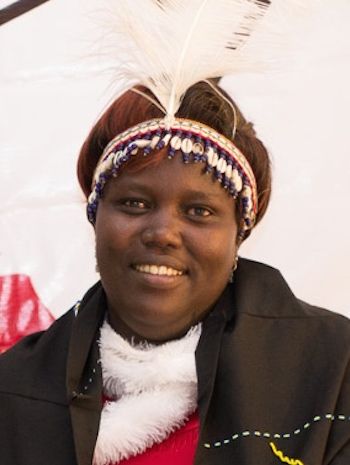 For the past 7 years, Mary Kuket has dedicated her life to working as a volunteer for social change in Baringo County. She's involved in a variety of initiatives aimed at bringing peace and development to the area. One of them is fighting gender-based violence rampant in the area; women are suppressed and forced into early marriages, which not only hurts them but also affects the growth and development of the entire region. Kuket is committed to encouraging the women to be brave enough to take up leadership roles in the community, since their contributions are key to bringing positive change.
Kuket is also involved in the peace process in troubled Baringo County. She spends a lot of her time traversing the volatile county with the message of peace and reconciliation, necessary for development. In May 2015, Kuket led a group of Pokot women to make a public apology to the other communities living in Baringo that have suffered atrocities at the hands of Pokots.
Kuket has also become an expert in "sand dam" technology; her expertise has become vital in helping the people of Marigat, a semi-arid area, capture the water necessary for sustainable agriculture.
Giraffe Heroes Kenya wishes to recognize Mary Kuket for 'sticking out her neck' for the common good and her desire to lighten the loads, strengthen the hearts, and improve the lives of those in his circle of influence.