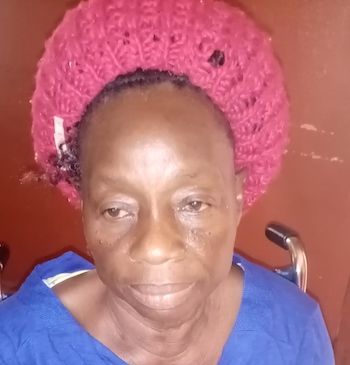 Summary: Sierra Leonean Melrose Hawa Kamara has been disabled since the age of five. Decades ago, she founded the Grafton Orphanage to take care of children who are similarly disabled. She earns a meager income from petty trading and constantly seeks financial support. She is challenged, however, by political and cultural biases against the disabled. Hawa Kamara was also threatened when she attempted to acquire land for a school serving the disabled.
Profile: Sierra Leonean Melrose Hawa Kamara has known about disabilities for virtually her entire life. When she was five years old, she went to fetch water for her mother at a nearby stream and became infected with polio. Since then, she has not been able to walk; she uses a wheelchair to get around. This life experience has undoubtedly given her not only the ability to feel empathy for the disabled but also the motivation to help them.
Decades ago, shortly after the civil war in Sierra Leone, Hawa Kamara founded the Grafton Orphanage, which houses dozens of children suffering from learning problems, hearing impairments, and other physical, including neurological, disabilities. "The establishment of the home," she says, "was largely out of a sense of love."
Running the orphanage is extremely difficult. Hawa Kamara is poorly educated and does not have substantial financial resources; she garners a meager income by doing petty trading: "I was the first disabled trader in Sierra Leone. My motive was to restore hope and dignity to vulnerable children." She uses that income to run the orphanage. Hawa Kamara is assisted by some hard-working staff members, but not enough to meet all the financial and physical challenges they face every day.
As a result, she is constantly searching for donations. Government as well as private sources deny her assistance because she doesn't have strong political backing and is often considered inferior because of her physical disability. She also encountered threats from some community members when she tried to acquire a plot of land for the establishment of a school for children living with disabilities. Despite the threats, she succeeded.
The coronavirus has made the situation only worse, and it's increasingly difficult to secure funds. Still, Hawa Kamara does continue to provide hope to the children; typically, she is their only source of hope. As to rewards for her work, it's simple: "I find so much joy in helping my fellow disabled."