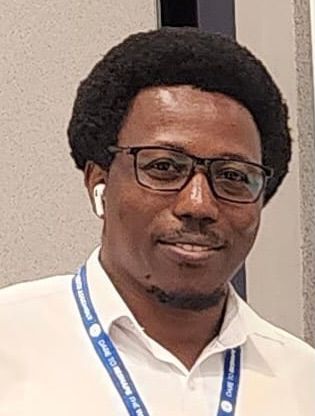 Summary: Musa Ansumana Soko is the Chairman of Sierra Leone's Executive Committee (EC) of the Civil Society Platform on Peacebuilding and State Building (CSPPS). He is also the Executive Coordinator of the Youth Partnership for Peace and Development. Soka has devoted his life to managing programs that seek to address the issues of social accountability, post-conflict peacebuilding, education, health, and most importantly, access to improved drinking water and sanitation services. He founded and manages the Water, Sanitation, and Hygiene Network of Sierra Leone (WASH-NETSL). Because of his various advocacies, he has faced threats and attacks as a result of Sierra Leone's decade-long civil unrest, including an inferno that engulfed his home in 2023.
Profile: Musa Ansumana Soko is a full-time activist promoting programs that address social accountability, post-conflict peacebuilding, health, education, and most importantly, access to improved drinking water and sanitation services. As Chairman of the Water, Sanitation, and Hygiene Network of Sierra Leone (WASH-NET SL), Soko dreams of a country that lives with safe, affordable, and accessible drinking water.
Soko was born and grew up in Eastern Sierra Leone. In early 2002, after the decade-long civil war, and after volunteering with Peacelinks Sierra Leone, Soko founded the Youth Partnership for Peace and Development, which focuses on supporting ex-combatants, young people, and their communities. Soko worked tirelessly to develop innovative post-conflict projects aimed at promoting societal reconciliation in conflict-free zones.
Between 2008 and 2012, Soko served as Advisor to the UN-HABITAT, representing Africa. Being given this role was based on his work on open governance, social accountability, and budget transparency, while providing citizens a voice to be able to effectively engage with one another.
Soko's work has continued since then. He has raised community awareness of domestic violence, its effects, and the relevant laws; trained community leaders on key elements of conflict resolution and mitigation; and helped to develop educational curricula on the topic. Other of his specialties include youth development, social media, special education, and women's rights. Soko even worked with the Shelter for Abused Women and Children in Naples, Florida (U.S.), to support their outreach and program efforts. Other advocacies include his introducing the blind and visually impaired to the use of computers through Sierra Leone's Blind Youth Movement and his work on COVID and HIV/AIDS.
Soko—who has a certificate and license from the London School of Hygiene and Tropical Medicine in "Disease Outbreaks in Low-and Middle-Income Countries"—also travels around the globe to raise awareness and seek support of the dire situations faced by underprivileged women in Sierra Leone. As he puts it, "I give voice to women who are faced with issues of gender-based violence and help give them true empowerment that will reduce their dependency on their male counterparts."
But working on these issues in Sierra Leone isn't always safe. Soko has encountered ex-combatants who displayed hostility toward him. He has also received anonymous death threats for his advocacy of water and of women's rights. In November 2023, one attack was particularly violent: Soko's home was engulfed in flames, burning to the ground. He wrote: "The pain and anguish of witnessing everything I held dear reduced to ashes is something I will carry with me for a lifetime."
Despite all the risks, Soko persists in advocating for the policies and the attitudes he considers critical to Sierra Leonean society. He is a recipient of the Goodwill Ambassadorship for Children by the Children's Forum Network through the Ministry of Social Welfare, Gender and Children's Affairs in 2007, Outstanding Youth Activist of the Year by the National Awards Committee and the National Youth Commission of Sierra Leone in 2011, Alumni Engagement Innovation Fund by IREX/US Department in January 2013, the Global Youth Ambassadorship by A World At School in 2016, and one of the "50 Most Influential Young Sierra Leoneans" by iLEAD in 2017.
As he says, he is proud to be "working with different initiatives, coalition, networks. and organizations from around the world in the bid to enhance networking and collaboration on issues of common interest in the youth development arena."