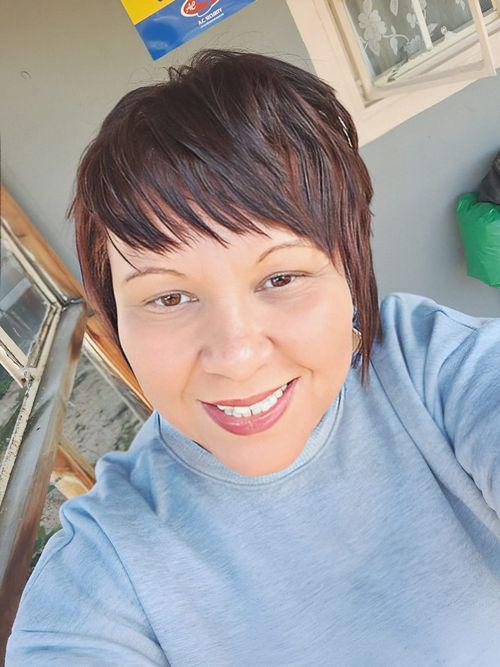 Summary: Naomi Betana, a gender-justice activist, fights patriarchy, injustice, and austerity through organising, petitioning, and managing empowerment initiatives in Witzenberg, South Africa. As a single mother, Betana sacrifices her time and energy to contribute to the welfare of others. She's determined to continue her efforts because she believes that it is human to stand for the oppressed.
Profile: When Naomi Betana was unfairly dismissed from her job in a furniture shop, she didn't know how to navigate South African employment laws well enough to defend her rights. That experience prompted her to learn the system and educate others on how to use it—and it marked the beginning of Betana's journey in human rights activism. A single mother, in 2010 she became the leader of the Community Legal Advice Centre and has been at the forefront of numerous campaigns to help women, young people, the needy, and the disenfranchised.
At the Centre, Betana promoted youth activist programmes to ensure that women and young people understood the crises in education, health, and housing. She taught women and young people how to organise collectively and also participated in the Treatment Action Campaign, which called for free HIV treatment and challenged the monopoly of pharmaceutical companies on anti-retroviral drugs. In 2019, she became involved with the Water Justice Coalition, helping poor families by organising and resisting the policy of prepaid water metres imposed by the City of Cape Town, a policy that made life harder for poor families.
In 2020 Betana formed the Witzenberg Justice Coalition (WJC), a women-led organisation fighting for social justice in Witzenberg and its surroundings, tackling community issues such as farm evictions, gender justice, land rights and access to healthcare services.
When Witzenberg farmers attempted to ban people's free movement in and around farms on the pretext of curbing crime, Betana sprang into action, reminding them of the provisions of the Constitution and challenging their attempts to privatise roads and to summarily evict farm workers. Through social media and petitions, she and her colleagues forced the farmers to reverse their decision to privatise roads.
Recognizing the poor health service at Ceres Provincial Hospital in Witzenberg, Betana mobilised fellow activists and community members to launch a campaign against hospital authorities. On 12 September 2022, they handed over a community petition with 2,043 signatures, demanding 100 more beds, 10 more doctors, and 30 more ambulances. This action had some success. Betana: "The Ceres Provincial Hospital currently has a capacity of 68 Beds. If all goes according to plan, the capacity will increase to 110 beds. We were also informed that a Community Day Care Centre is on its way to be based at Ceres Hospital."
Betana's organisation also facilitated the opening of "Women by Women", a local gender-based anti-violence project in Bella Vista, which will serve the entire Witzenberg community. The need for this is paramount, says Betana: "Statistics have proven that our gender-based violence cases are increasing on a daily basis in Witzenberg. Another aggravating factor is child neglect during the festive season." The project also partnered with government departments to offer training on gender-based violence mitigation strategies.
"Our politics is clear," she says—"'Each one Teach One.' We should read and organise together," says Betana, who has had only a limited formal education herself. "Only then we will get stronger.
Another step forward for the Witzenberg Justice Coalition occurred in December 2022, when WJC added computer literacy to its trainings. "We believe that computer literacy will help to curb the high levels of dependency on male partners. This mini-computer lab initiative also aims to help young girls with various skills," she adds. "WJC are leaving no one behind."
Betana's slogan? "If we keep on organizing, we will win."
Betana's work has not been without challenges. It is difficult for a woman, particularly a single mother, to work in a predominantly male community and to challenge a predominantly conservative and patriarchal culture:
"I am a woman. Witzenberg Justice Coalition is a women-led movement. If you are fighting land battles, it's about land owners who are men. I have been involved in land battles all of my life. The land owners have power."
The consequences of her work have included electricity being disconnected from her house and constant police raids and monitoring of her private life. "As I am part of a struggle, and leading it progressively, then the risk is the police constantly raiding my house," she says. "They are following me even on social media."
Her family relationships have been strained: "My child says you spend more time with the community and you don't have time for me." And when her son had wanted to go to a Group A school, his application was rejected. "I told his father," says Betana, "that it's not because he is not good, but it's because of me."
Despite all of this, Naomi Betana believes that the risks won't distract her from her human rights work, for this is her way of life:
"You do it not necessarily because you want to do it, but because it is human to do so."