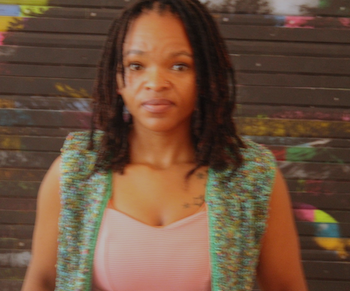 Neliswa Dludla, a trained Maths teacher turned down a formal teaching job, opting instead to develop the literacy and numeracy skills of young learners in her poor community to prepare them for a successful career and to keep them out of drugs and crime. She challenges the current school curriculum, claiming that it builds up criminals and not responsible citizens. She charges that space and access to learning are a challenge to learners from township communities, adding that public school buildings are not utilized effectively. She faces risks, including from criminals and gangs.
Having grown up in a shack and in a family of seven with her mother, Dludla started volunteering to teach literacy and numeracy in her community when she was still at university.
In 2018 Dludla formed the Early Birds Life Style Academy to teach literacy and numeracy to children from disadvantaged and under-resourced families. Her project targets learners from ages four through seven.
Starting in her home community of Khayelitsha, she used her own salary to rent a house and turned the yard into a reading space. She used two of the rooms as a classroom in the afternoon. 'We turned the space into a reading yard. Learners could get in, sit on tyres and read. All our friends donated books,' said Dludla.
She had no idea that she was renting a house next to a drug lord, who owned an over-the-counter drugs shack. 'Literally Maparaparazi (deadly drug addicts who can kill for money) could get in and get drugs right in front of my kids. Three laptops belonging to my volunteers were stolen,' Dludla said.
Early on she was abducted and held at gun point, reportedly by some gang mafias who demanded to know if her project was in fact an educational initiative or if she was there to expose their criminal work They hit her with a gun on her forehead, leaving a permanent scar. She spent eleven days in hospital following the ordeal. Her mother begged her to stop her literacy and numeracy program, advising her to go and teach at a formal school.
'My mother used to beg me for months to leave. She used to check up on me at 5 am to make sure I was alive,' said Dludla. Despite all these direct threats to her life, Dludla, like a giraffe sticking its neck out, soldiered on.
In 2019, she moved to Mfuleni, another township community in Cape Town where she took an old abandoned tavern building, cleaned it up and turned it into a library for the community.
In an environment where learners are not eager to learn, she uses different art forms such as dancing, poetry, and visual arts to attract learners for her programs. Considering that most learners finish school at 12 mid-day in most public South African primary schools, her after-school literacy and numeracy programs keep them occupied and out of drugs and crime. 'I'm interested in building a model that is centered on a ground up approach to community development, 'she says. 'We need to figure out a solution to the existing challenges of our education system.'
Having grown up in a disadvantaged community herself, Dludla knows the challenges faced by children to access education. She is also aware of the inequalities in terms of access and quality of education between those who grow up in townships and their counterparts from affluent schools and suburbs. When she went to university her disadvantaged background made it difficult for her to compete at the same level with those from rich families. Dludla does not want others to suffer the same way.
Neliswa Dludla will not stop her crusade for justice, equality and inclusivity in South Africa's education system.
Dludla is a recipient of the Reconciliation Award 2019, awarded in recognition of her work in using art to pursue social cohesion and community building.