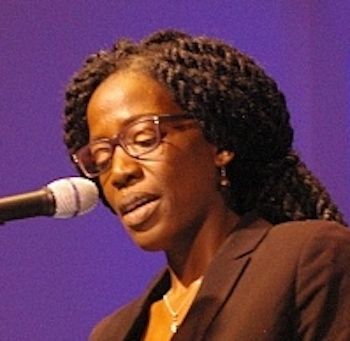 Summary: Prior to the outbreak of COVID-19 in Sierra Leone, Dr. Nellie Bell worked tirelessly as the head of Ola During Children's Hospital in Freetown. On April 2, 2020, Dr. Bell tested positive for the virus. She's now recovered and is back on the front lines. Her boldness in isolating herself when she got infected and her clarion call for others to take required precautions saved lives, and her continuing efforts will save even more.
Profile: It was April 2, 2020, and pediatrician Dr. Nellie Bell, working with Aspen Medical in Sierra Leone and Ola During Children Hospital in Freetown, tested positive for COVID-19.
"I started having mild headache and weakness on Sunday, 29 March, 2020," she relates. "That Sunday night, I sneezed once and on Monday evening the sneezing and running nose intensified. On the following Tuesday morning, I got myself isolated in my office and got tested, although I thought it was a regular cold. As part of the pillar of the national response team, if exposed, I thought, I will further expose a whole lot of other people if I did not seek to know my status, which later turned out positive, so I decided to think of the bigger picture and get myself tested."
At the early stage of her contracting the virus and subsequent admission into the 34 Military Treatment Center in Freetown, Dr. Bell called on all those who had come in contact with her to get themselves tested if they have symptoms of Covid19 or otherwise isolate themselves; this request doubtless helped save many lives.
This is hardly the only challenge Dr. Bell has throughout her career. In 2017 she worked with Aspen Medical to provide free health checks to 50 children living on the streets of Freetown, despite their rare and severe illnesses due to lack of care. Some of them were Ebola orphans and have since being integrated into other families. Others that were initially rejected by their families have also been reunited with their communities and sometimes back to their original families.
"These kids also have different stories and are at different stages of the reintegration. But they all have been, one way or another, living on the streets of Freetown," Dr. Bell recalled.
In all of her efforts, Bell has shown considerable passion in caring for children. In 2019 she joined other colleagues in deciding that they could in fact do something about vulnerable groups rather than sit in vain and see them die. So Bell and her colleagues from across the globe began to perform various surgeries free-of-charge to vulnerable groups and needy children. They treated conditions including inguinal and umbilical hernias, hypospadias, undescended testes, congenital and acquired contractures, and malformations of the GI tract. Regardless of the lack of support and resources provided by their governments, they began providing treatment for all free of cost. But these efforts are not easy:
"Our key priority in Sierra Leone is human resources, which has been a huge challenge in the running of the hospital. The hospital requires good and quality doctors and nurses, but we are very much constrained with space and we continue to call on the Ministry of health and Sanitation (MOHS) to push forward with a project that can bring about the expansion of the hospital."
Bell was recognized as the second COVID-19 case in Sierra Leone. After she was discharged, she shared her experience on social media:
". . . I would like to inform you that I have been tested negative twice for the COVID-19 disease, which means I can go home today! It has been a bumpy ride and a roller coaster journey for the past 19 days. Many ups and many downs. I thank God that He sent people to comfort me in the times that I needed comfort, from the individuals in high positions, to my cleaner at work; all the Bishops, Pastors and Reverends; colleagues, friends, and family. I say a BIG THANK YOU!!"
Nellie Bell is currently part of a volunteer group of 12 professionals working with the Scientific and Technical Advisory Group for Emergencies (STAGE), which aims to help provide a roadmap on decision making and response during emergencies while providing scientific insights from research and state-of-the-art technological interventions. She is also raising awareness for her fellow citizens to take necessary precautions during the pandemic: Stay at home, wash hands regularly, wear a proper face mask (with at least two layers), and maintain social distancing. Her boldness in isolating herself when she got infected and her clarion call for others to take required precautions saved lives, and her continuing efforts will save even more.