Neneh Rugiatu Turay Koroma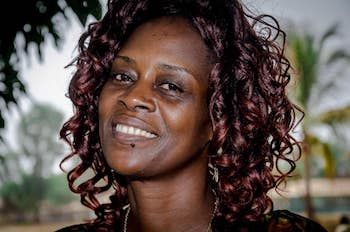 Summary: Neneh Rugiatu Turay Koroma is a Sierra Leonean women's rights activist who speaks out against female genital mutilation (FGM), which involves the forced cutting of the clitoris and is part of the Bondo culture. She is the founder of the Amazonian Initiative Movement, an organization that fights FGM as well as issues such as rape, child marriage, and teenage pregnancy. Despite harassment from the government and numerous death threats, Koroma continues supporting the education and empowerment of women. See; https://borgenproject.org/tag/the-amazonian-initiative-movement/
Profile: Born in Sierra Leone, Neneh Rugiatu Turay Koroma has confronted danger virtually her entire life. When she was 11 years old, she and her siblings visited their aunt in Freetown. It turned out to be a horrible visit: Koroma was blindfolded, stripped, sat on, and had her mouth stuffed with a cloth. Women around her then clapped and sang as she was genitally mutilated, a tradition in the Bondo culture.
She remembers: "The woman used an unpolished penknife to slice off my private part and warned me as well never to talk about it or risk being killed." Of course, the process—female genital mutilation, or FGM—was painful and the consequences continued. Koroma bled for two days, the scar became infected, and she experienced blood clots and a cyst. It could have been worse: Koroma's cousin went through the same mutilation and died as a result.
Years later, Koroma fled Sierra Leone because of civil war and at a refugee camp in Guinea met women who had had similar experiences with FGM and who had similar attitudes. They founded AIM, the Amazonian Initiative Movement, and they determined to change such harmful and deadly traditions.
Back in Sierra Leone, AIM took hold. Koroma dedicated herself to educating people about FGM and to addressing other women-oriented issues such as rape, child marriage, and teenage pregnancy. She and her colleagues counseled women in villages across the country and tried to provide havens for those fleeing FGM.
These efforts did not escape the notice of opponents: Koroma was forbidden by authorities to run for office—she is considered "disrespectful and difficult to handle"—and has received countless death threats; four of the women in her organization resigned because of similar threats.
However, along with the threats have come successes: In 2019, Koroma spearheaded an alternative "Rite of Passage" ceremony, in which 40 former practitioners of FGM committed to end the tradition. And FGM without consent was finally made illegal in Sierra Leone.
Koroma's goals for women have remained consistent throughout the years of her activism: "Work against fear, work against division, and make sure they remain united."