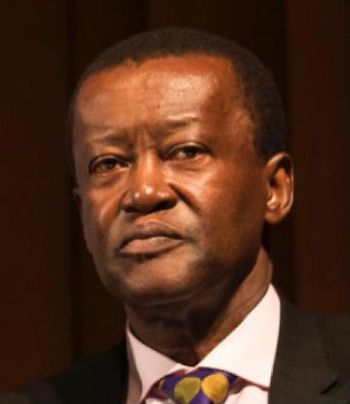 Summary: Nicholas Browne-Marke is a fearless, dedicated, and politically non-aligned Justice of the Supreme Court of Sierra Leone. He has been subject to many threats while addressing politically sensitive cases and rendering unbiased judgments. He has also been a strong advocate for human rights.
Profile: Nicholas Browne-Marke is a fearless, dedicated Justice of the Supreme Court of Sierra Leone. He is notable for maintaining neutrality in a judiciary that is known for its immersion in deeply entrenched politics. In a climate of high politicization of state institutions, Browne-Marke has held firmly to the principles of fairness and justice for all.
This philosophy and his consequent actions don't come without risks. Because he has presided over matters that have great national and international concern, and also because he has sentenced men who have strong criminal-gang connections, Justice Browne-Marke's life has been threatened many times. For example, in 2009, he sentenced and fined 15 men trying to smuggle nearly 700 kilograms of cocaine through the country's airport; as a result of this judgment, he received death threats from several anonymous individuals.
Sierra Leone holds Justice Browne-Marke in high repute for his uncompromising attitude toward his work and his unblemished record. While serving as a Court of Appeal judge some years ago, accused people on many occasions tried to lure him with huge amounts of money to escape justice, but in all those circumstances he rejected their offers. Nonetheless, perhaps because of his lack of bias in a biased system, he has never been appointed as Chief Justice by governments—even when he meets all the criteria to be one.
Browne-Marke is also a Justice of the Supreme Court of Gambia. He was originally selected by former Gambian President Yayah Jammeh in order to hear Jammeh's petition regarding the 2016 presidential election. Browne-Marke however, to avoid conflict of interest, refused to take up his seat until this electoral matter was resolved months later—an unusually brave action in a part of the world where politicians often own the justice system.
Judge Browne-Marke has also personally supported and financed activism against gender violence, which was particularly rife in Sierra Leone from 2000-2015.
Nicholas Browne-Marke was born in England; his parents were from Sierra Leone. He studied law at the Inns of Court School of Law, graduating in 1979, and was called to the bar at Inner Temple in 1981. In 2007, he began his role as a lecturer at the Sierra Leone Law School.