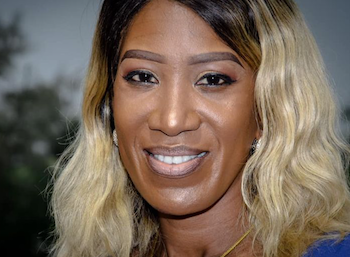 Summary: Despite many obstacles, gender activist Nicky Spencer-Coker fights for the rights of women and girls in Sierra Leone. Spencer-Coker, a practicing barrister and solicitor of the High Court of Sierra Leone, was previously a State Counsel at the Ministry of Justice and Senior Defense Counsel at the Sierra Leone Legal Aid Board. She currently serves as General Secretary of the General Legal Council, which is responsible for the regulation of the legal profession in Sierra Leone. Spencer-Coker has faced several challenges in Sierra Leone for her free litigation and campaign for women's and girls' rights, but she persists in pushing for the education and justice of marginalized people in her community.
Profile: Nicky Spencer-Coker is an inspirational advocate for the empowerment of women in Sierra Leone. Working in the legal sector for almost a decade, she continually advances knowledge on the rights of women and girls. Currently working as a barrister for the Legal Aid Board of Sierra Leone, Spencer-Coker helps provide services to poor and marginalized people.
Nicky Spencer-Coker became a household name in the early 2000s, not only because of her comforting voice as a radio broadcaster on the Saturday Breakfast Show on Capital Radio, but also because of her feminism and advocacy for the rights of women and girls. Over the years, she has trained and inspired many women and girls in schools and slums on issues such as parent-child communication, sexual reproductive health, life skills, peer education, livelihoods, and survival skills. She focuses on gender equality, health education, human rights, and nonviolence against women—including sex workers and street children.
According to Spencer-Coker, one of the greatest obstacles facing women in Sierra Leone is patriarchy: "Even though we live in a fun-loving country, patriarchy and its resultant violence are always lurking underneath." Despite the obstacles, though, she is invigorated by the growing number of Sierra Leonean women speaking out against injustice—for themselves and others.
While working as Senior Defense Counsel on the Sierra Leone Legal Aid Board, Spencer-Coker paid particular attention to representing underprivileged and abused women, some of whom were charged with crimes ranging from petty thefts to homicide. As a result of that advocacy, she has faced severe backlash, which has not deterred her.
"We are fighting for a violence-free society for our women, girls, and underprivileged persons within the Sierra Leonean community," she says, "and I am not afraid of anything; we are restoring hope to the downtrodden, the needy, and the poor. We also defend the defenseless who cannot afford litigation for themselves."
Some of those defenseless are commercial sex workers, who risk being violated and sometimes killed, without being able to defend themselves:
"The commercial sex industry is not legal in Sierra Leone, but like every other human being, we fight for their human rights and dignity. In Sierra Leone, as elsewhere, commercial sex work is still stigmatized. Sex workers here say they face assault and routine intimidation by police, clients, and others."
Another hindrance to women in Sierra Leone, according to Spencer-Coker, is the lack of education. She believes that the greatest challenge facing the next generation of women is the deplorable educational system they have to navigate. Since education offers options to girls, an improper education limits their choices, which is why Spencer-Coker believes in demanding change.
She is in a good position to demand that change. Besides hosting the Saturday Breakfast Show, she was the moderator of the Vice-Presidential Candidates debate in 2007 and served as the Legal Analyst for the Women's Situation Room during the 2018 elections. Nicky Spencer-Coker has been recognized as among the 100 Most Inspiring Sierra Leoneans and 50 Most Influential Sierra Leonean Women for 2019 and 2020.