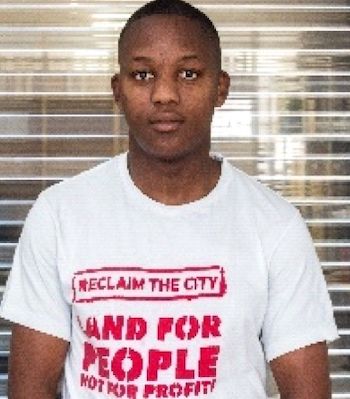 Thumbnail: Nkosikhona Swartbooi is a fearless campaigner for justice and equality in South Africa. An experienced activist and strategist, Swartbooi's work began during his school days when he led a group of students to abolish corporal punishment and demand extra lessons to prepare for examinations. Swartbooi has since campaigned for safe and decent housing for all, protested unlawful evictions, exposed corruption in South Africa's rail agency, and raised awareness about the COVID-19 pandemic. As a result of his work, Swartbooi has been arrested, threatened, and attacked; today he lives in a safe house away from his family.
Profile: Since 2007, Nkosikhona Swartbooi has campaigned for health, safety, and justice for his fellow South Africans. As a youngster, he led a group of students at Brakkloof Combined School in rural Queenstown to protest against corporal punishment and demand extra lessons to prepare students for examinations.Swartbooi says that it was these early actions that ignited his activism. Since then, he has never looked back. He remains resolute and in the front lines, forming partnerships with organisations to effectively organise and mobilise community members for a just and equal South Africa.
For example, as the Head of Organising for Ndifuna Ukwazi (a housing organisation) and a founding member of Reclaim the City (a movement of workers and tenants campaigning against illegal evictions), Swartbooi and his colleagues successfully led a series of campaigns that stopped evictions of low-income households from their affordable places of residence in the Cape Flats and at the same time exposed corruption and complacency by policy makers.
These actions were not without risk "We challenged how law enforcement was carrying out these evictions and as a result of that we got targeted and I got shot four times in the arm and got hit by a stun grenade at the back of my head. This happened to me during an operation carried out by Metro Police, the Law Enforcement, and the South African Police Services."
In 2017, Swartbooi and his colleagues stormed the offices of the Premier, demanding an explanation of why a prime piece of land located in a Cape Town affluent suburb was sold at a high discount to corporations at the expense of community services, ignoring the plight of thousands of homeless Capetonians. Swartbooi claimed that the land should instead have been used to build cheap houses for low-income households. As a result of the campaign, the city was forced to carry out an audit on what had transpired.
But this campaign, too, had negative consequences: During a Reclaim the City Staff meeting, a group of thugs entered the meeting room of a building which the group had allocated to homeless and poor households in Cape Town. The thugs demanded that Swartbooi and his colleagues vacate the building or else they would kill them. The thugs reportedly wanted to steal the building and rent it out to tenants for profit. Swartbooi stood his ground. The building was not stolen.
In 2019, Swartbooi and others embarked on a naming and shaming campaign to expose Passenger Rail Agency of South Africa (PRASA) bosses for their corruption, nepotism, and incompetence. As a result, Swartbooi and his colleagues were targeted by politicians and the heads of PRASA that they had exposed as corrupt: "Some of us who were leading the campaign," says Swartbooi, "were publicly targeted and threatened by PRASA staff members to an extent where we had to get a restraining order from the courts to ensure our safety. This situation got so bad I had left my home and live in a safe house."
And in 2020, Swartbooi helped form the Community Action Network, whose goal is to raise awareness about COVID-19 and to ensure that residents stay safe from the virus. Again, he was threatened by politicians—as he has been in nearly all his initiatives.
Nkosikhona Swartbooi has paid the price for his activism, but he continues to show courage in fighting for his fellow citizens, despite the threats to his life and the lives of his friends, colleagues, and family members.