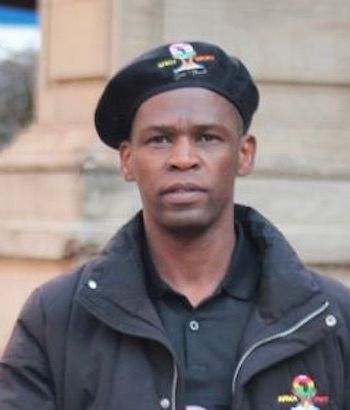 Summary: Olerilwe Peter Moshosho, a local human rights defender, challenges the persecution of foreign nationals in South Africa. In 2021, at the height of xenophobic attacks, Moshosho—with a group of other South Africans—formed "Africa Simunye", a social movement committed to helping foreign nationals who have been illegally evicted, received ill treatment, and prevented from accessing basic social services. Despite being unemployed with little savings and facing threats from anti-immigrant groups, Moshosho soldiers on, encouraging togetherness and bringing assurance that no residents shall be exploited, regardless of where they come from.
Profile: Olerilwe Peter Moshosho was born and raised in the Northwest province of South Africa. The village where he completed his primary and secondary education was called Mabule. In 1998, Moshosho, due to work commitments, relocated to Johannesburg. Shortly after he arrived there, he became disturbed by the level of discrimination and violence against African immigrants.
"What inspired me," he says, "to start fighting for immigrants in South Africa was what I saw taking place before my eyes that saddened me. How us as Africans were starting to grow apart from each other. How we were slowly starting to perceive each other as enemies. How our actions brought detriment to one another. That did not feel good to see. I could not stand back and allow my fellow African brothers and sisters endure the pain and torture."
Moshosho was further disturbed by the government's limited support for international migration: "The government is also not doing much about the xenophobic attacks that immigrants are enduring."
Though the South African government is a signatory to regional and international protocols on the rights of refugees and immigrants, and it has an arguably progressive constitution, critics blame its politicians for being complicit with xenophobic groups.
In 2021, Moshosho helped to form "Africa Simunye", a social justice movement to counter increasing xenophobic violence in South Africa. Simunye is a Nguni word meaning "We are one". He mobilised over 470 South Africans to be peace ambassadors and community monitors who respond to cases of evictions and discrimination against foreign nationals. Moshosho: "Africa Simunye has stopped illegal evictions that were affecting immigrants. We have stopped the ill-treatment of immigrants at health facilities where they were denied access to receive medical attention."
When members of an anti-immigrant group marched to Yeoville Market to evict foreign shop owners, Moshosho and his colleagues immediately intervened to stop the eviction. However, as the group left, they threatened to set the market on fire if the foreign nationals didn't leave. One week later, a portion of the market was indeed set on fire. Moshosho and his colleagues then ensured that the affected immigrants received an alternative space to use, "so they can continue with their normal day-to-day business to feed their families."
Another case of discrimination: Moshosho and his colleagues have confronted government officials several times for excluding immigrant children from enrolling at local schools, which is contrary to constitutional provisions. "I have also encountered situations," he says, "where foreign nationals were unable to enroll their children in schools around Yeoville due to not having the required documents to enroll their children in government schools in this area."
Moshosho's work involves sacrifice and risk. Though he is unemployed, "I always take my last money to travel to whatever destination that could bring resources that can assist in the operation of the organization." Described as hardworking by his supporters, Moshosho and his colleagues at times walk at night to protect immigrants facing eviction in his community. Moshosho also receives death threats from anti-immigrant groups: "The risk that I am facing is when I receive death threats in order to silence me and stop the movement. They say they will make me disappear if I continue supporting immigrants."
But Moshosho is undeterred: "No, I will not stop defending immigrants, even with so much risks. To start with, immigrants—specifically, Africans—are just like my brothers and sisters. With so much hostility towards them, I feel it's our duty as Africa Simunye to protect and stand for them.
"If we don't, who will?"