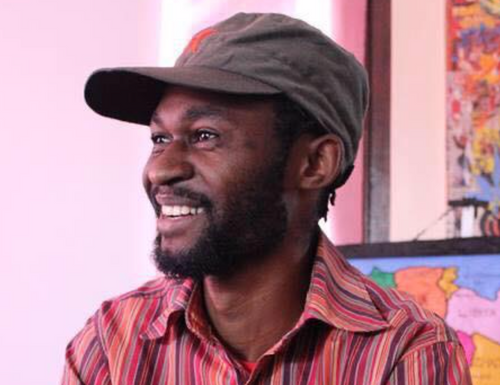 Summary: Author and poet Oswald Kucherera in South Africa knows that the cause of social justice transcends all boundaries. His own actions focus on the cause of others half a world away. In his quest for a just world, he leads the Free West Papua Solidarity Campaign, the only such project in Africa, raising awareness of the West Papuan genocide and the demand of the people there for freedom and independence from Indonesia. He continues on despite financial challenges and threats.
Profile: In 2015, author and poet Oswald Kucherera, with a group of fellow activists in South Africa , formed the Free West Papua Solidarity Campaign in Cape Town to raise awareness of the wholesale killing of indigenous Papuans by Indonesian military and to lobby for support for the freedom and independence of the people of West Papua.
Why the focus on a crisis half a world away? Kucherera is convinced that it is the duty of all human beings anywhere to defend the oppressed in any part of the world. 'The struggle of oppressed groups is universal,' Kucherara says.
With limited resources and despite threats from Indonesian intelligence personnel, Kucherera has managed to bring the conflict in West Papua to the attention of citizens and noncitizens in South Africa, including political, religious and traditional leaders.
In 2017, he was instrumental in the collection of signatures for a petition demanding the independence of West Papua, which was presented to the United Nations Decolonization Committee that same year.
With the help of colleagues, Kucherera organized a series of exhibitions and protests before the South African parliament and the Indonesian embassy in South Africa, demanding the freedom of Papuans from Indonesia. In addition, Kucherera has successfully organized exhibitions using pictures to tell the story of the brutality going on in West Papua. He encourages poets, authors and musicians to use their skills in raising awareness of the human rights violations taking place there.
South Africans listen to his message and are moved by the challenges faced by Papuans because they know that their own struggle against apartheid and colonialism in Africa and South Africa in particular could not have been possible without international solidarity and support. Thousands have raised their voices in solidarity through online and offline campaigns. 'I am sure today people know about West Papua. And since we started there is a lot of positive responses and I think we real did an incredible job in raising awareness,' said Kucherera.
Kucherera faces financial challenges to support his human rights work. He uses the little money he gets from his job as a receptionist to fund the work. 'The campaign is not growing at the pace we want it to grow, he says. "I have no external funding to print posters and fliers and to organize more programs and protests. I use money from my own pocket.'
Kucherera receives threats. In 2018, a campaign was launched by Indonesian intelligence personnel in South Africa to demonize him as a hooligan bent on tarnishing the good image of Indonesia. 'The Indonesian military intelligence people did not take this (The Free West Papua Solidarity Campaign) lightly,' he says. 'They hacked my Facebook account and created a video to spread falsehoods, depicting us protesters as bloodthirsty people trying to destabilize peace in West Papua.'
In spite of all these challenges, Kucherera continues to fight, sticking his neck out like a giraffe 'There is no turning back in fighting for the cause of humanity,' he says. 'We knew what we were getting ourselves into when we challenged those in power. To us, their attacks on us mean that that we are making an impact. By their actions they are acknowledging our contribution to the struggle. So we are happy to see that.'