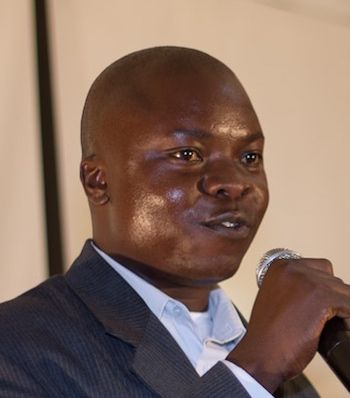 Patrick Owino Barasa empowers and enlightens citizens, mostly women and youth, to become active participants in helping shape the government policies on development that impact their lives. In his advocacy, Barasa helps citizens understand their roles, their rights and their power to influence policies in his county.
His efforts are not always a smooth sail. At times he's been threatened by corrupt leaders for sensitizing people to their rights and urging people to take action-- but he 's not shaken and continues to do what is right.
Barasa's main agenda has always been peace for all. He strongly urges youths to use their numerical strength to press for peace. During the referendum in 2012, he was at the forefront urging citizens in his region to participate in the referendum process peacefully.
Barasa has been active in this community work for the last fifteen years. For him. peace and development are intertwined. "Coming together is the beginning," he says, "keeping together is the next step, and working together is the success."
Giraffe Heroes Kenya wishes to recognize Patrick Owino Barasa for 'sticking out his neck' for the common good and his desire to lighten the loads, strengthen the hearts, and improve the lives of those in his circle of influence.