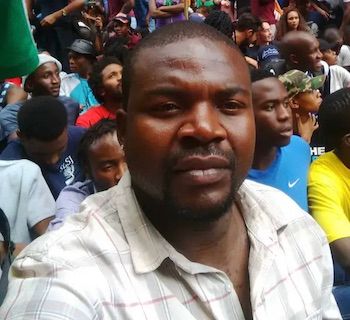 Summary: Peter Madimetja Monethe leads from the front. Monethe challenges oppressive labour practices, and engages in community struggles for land and decent housing in South Africa. A founding member of the Abahlali base Freedom Park and Gauteng Housing Crisis Committee, organisations that advocate for decent housing in informal settlements, Monethe organises protests, community gardens, festivals of the oppressed, soup kitchens, political education classes, environmental health campaigns and social audits on water and sanitation. This has not been easy. Monethe opened his house to be a meeting place and used to accomodate students and activists without shelter, free of charge. At one point Monethe was shot at by an unknown gunman, an incident he suspects was linked to his activism. Despite these apparent threats, Monethe believes he has a role to serve humanity, and will not be deterred.
Profile: When Peter Madimetja Monethe was working at a call centre in 2008 at a food factory, he realised the oppressive conditions he and other workers were exposed to. It was at that time that marked a turning point in the history of Monethe.
'I got involved in a struggle at work place in 2008 where we were highly exploited and oppressed by the management in the form of low salaries and sometimes not even allowed to take our lunches in order to meet the demands of the clients.
''I then organised workers to join a workers union which made me realise that the struggle of workers can not be separated from community struggles,'' said Monethe.
In the food industry, Monethe was elected shop steward.
When Monethe left the food industry and joined the banking sector, and because his track record and fearless character in challenging unfair labour practice, he was elected a Publicity Secretary of the Banking Insurance Finance Assurance Workers Union (BIFAWU).
'' In 2013 I resigned to work full - time as office bearer of the union where I was in charge or part of the action committee and we had two successful marches against the Department of Labour,'' said Monethe.
In 2009 Monethe became a community organiser for Abahlali base Freedom Park where he was engaged in the struggle for land and decent housing.
As of March 2023, there were nearly 2, 5 million households in South Africas on a housing waiting list according to the National Housing Needs Register.
The STATSSA 2020 survey revealed that 11.4 % or 1.9 million households live in informal dwellings.
Yet, the UN Charter on Sustainable Housing seek to ensure access to decent, adequate, affordable and health housing for all.
In 2012 when thirty four (34) mine workers were killed at Marikana by the police during a protest, Monethe and his colleagues mobilised community members and students to join the struggle for justice, against the regime in Pretoria and mining companies.
''When the workers at Marikana were killed, we formed a solidarity team which included students, and community members to join the workers struggle,'' said Monethe.
''In 2014 we formed a movement of community members regardless of their political affiliation which today is known as Abahlali base Freedom Park and Gauteng Housing Crisis Committee (GHCC).
''My colleagues and I formed the Abahlali base Freedom Park to promote community participation in development and to challenge ruling party elites for sidelining the ordinary citizens in decision making processes and development,''
'One of the objectives was to unite different communities with common objectives after realising that there is value in numbers,'' said Monethe.
In their fight for community participation and development, Monethe and his colleagues launched land occupations to house dozens of people without shelter, community gardens and soup kitchens to feed the hungry, festivals of the oppressed in forms of art, social audit on water and sanitation, environmental health campaigns, and political education.
This effort has not been in vain.
The South African government through the Department of Housing due to pressure, was forced to develop the area in an initiative popularly known as the Southern Farms Mega Housing Development Project. This saw about 47 000 houses earmarked for construction.
A remarkable achievement: Today Southern Farms is now in the budget of the City of Johannesburg.
This work has not been without challenges.
A member of the Black Conscious Movement United, Monethe opened his house to fellow colleagues to be a meeting place for strategies. He also accomodated students and activists who had no shelter, free of charge.
As if it was not enough, Monethe said,'' I also gave a potion of my salary when employed to assist the organisation.''
When in 2014 Monethe and his colleagues raised alarm about housing corruption in Gauteng, their life was under threat.
''I was also attacked and shot at by unknown gunman who chased me with two cars.
''After opening a case with the public protector we were placed in a safe house,'' said Monethe.
Despite the apparent danger to his life, Monethe vows to continue fighting for humanity, and is undeterred, believing that human beings are the message to the world, and that everyone must play their part in their life time.