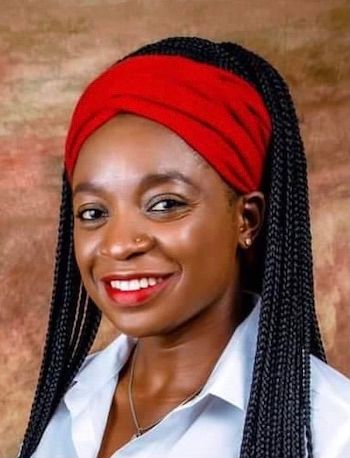 Phebean Swill
Summary: Despite being fired from the Entertainment Board and physically attacked over the years, Sierra Leonean broadcaster and journalist Phebean Swill has continued to employ many tactics in her fight for citizens' rights, freedom of expression, and journalistic integrity. Her current battle is against the increase in the price of petroleum products and the right to report freely on Sierra Leone's June 2023 elections.
Profile: In 2016, journalist Phebean Swill was performing as the Master of Ceremonies at a local musical festival in Sierra Leone; halfway into the program, she was physically attacked and dragged off stage.
It is one of many challenges Swill has faced as a journalist and activist for citizen's rights.
In 2009, Phebean Swill started her career in broadcasting as a disk jockey (DJ) at Eagle Africa Radio in Freetown; she was only 17. In the following years, she gained experience as a radio/television presenter, producer, and reporter for various local and international media institutions, e.g., Capital Radio, Free Radio, Star Radio and Television, the Sierra Leone Broadcasting Corporation radio and television, and Africa Independent Television and Raypower FM in Sierra Leone and Lagos, Nigeria. She rose through the ranks and performed as Master of Ceremonies for entertainment shows. A decade after that, she became a news anchor for Africa Young Voices television.
During this time, Swill has used her voice to raise awareness and ask tough questions to the powers-that-be on issues such as the economy, education, and human rights; she does so with precision and boldness. These positions do not always agree with those of the Sierra Leone government. As she says, "In my kind of work as a broadcaster and journalist, it's clear that you are always considered to be against the system."
One strong example is her being attacked at the music festival. The assailants were bodyguards of Alfred Palo Conteh, then Minister of Internal Affairs under President Ernest Bai Koroma. The cause of the attack undoubtedly related to Swill's views and comments on the excesses of Koroma's regime.
In 2021, Swill was called to serve on the Entertainment Board of Sierra Leone following its creation by the President of Sierra Leone, Julius Maada Bio, and under the ambassadorship of Amara Denis Turay, an appointee of the President. Swill served in this position until August, when she was fired following her take on the price of petroleum products.
The Chairman of the Entertainment Board, Amara Denis Turay, aka Kao Denero, ordered her dismissal after Swill posted on social media about a hike in the price of petroleum products. The screenshot of the post was taken to the official WhatsApp group of the Entertainment Board, and Kao Denero instructed her to delete the post. She refused and was fired.
Reflecting on this experience, Swill says, "I am so moved by how we as Sierra Leoneans just look at things and are satisfied with the status quo, yet yearning for a change. I believe that change begins with someone, and in many cases no-one wants to stand up for it."
Swill added that she will not stop fighting for people's rights and freedoms, despite the obstacles: "Threats are a daily thing, especially in our profession."