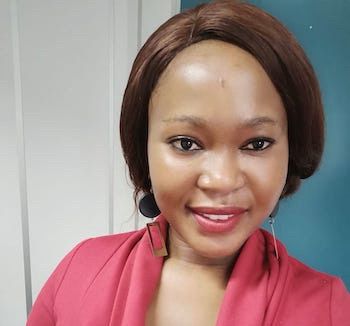 Summary: South African Phoebe Faith Mahlokwane, a young pastor, fights drug abuse among young people in Elandskraal, Limpopo Province. Through her nonprofit company, she carries out anti-drug campaigns and rehabilitation of drug addicts.. The programme, which is largely self-funded, faces threats from drug lords, who demand that Mahlokwane quit her anti-drug campaigns and rehabilitation activities.
Profile: South African pastor Phoebe Faith Mahlokwane was inspired to embark on an anti-drug campaign and rehabilitation of addicts after having seen and experienced the suffering drugs bring to individuals, families, communities, businesses, and government. Her own brother was a drug addict for nine years—not only addicted but also committing crimes to support his habit. Mahlokwane was determined to help him:
"I stopped fighting him and decided to give and show him love, support, and praying for him. In the evening, I would prepare a meal for him and put it in his room. I bought him clothes. I took him to the doctor when he was sick. I encouraged him to bathe and also I would buy him bathing soap."
After Mahlokwane successfully helped her brother to recover, she realized that she could help others in the community to recover as well. In 2021, she set up an outreach project called Phoebe Theophilus Ministries to help youths addicted to drugs. Among other activities, she organises outreach programmes to educate youths on the dangers of drug abuse.
Mahlokwane uses her own funds and support from partners to prepare meals and provide them to the addicted youths. Several times a month, she sets up a table next to the spot where the drugs are sold, particularly nyaope, a deadly addictive drug containing heroin that is found in most South African townships. The drug has been ravaging youths in Gauteng, KwaZulu-Natal, and Cape Town townships, and it is now creeping into Limpopo's rural villages.
Mahlokwane dreams of a drug-free society and encourages love and compassion: "I organise and cook a decent meal for the addicts and help them connect with local social workers and also go to their homes to counsel the families. I encourage them to be patient with the addicts." And her work has borne positive results. So far, she has managed to send 10 young nyaope addicts to rehabilitation centres: "The hope the families got when I started with these outreaches is heartwarming. . . . Addicts need love, patience, support—not a judging hand but a warm hand to hold on to. They need to remember that they are loved, they are special, that they still matter, and we need them back."
The fight for a drug-free society is not an easy one: "Currently, I have no funding. I use my own resources to carry out the project. I am also assisted by volunteers from my church, family, and the public with donations, cooking, and entertainment for the addicts," says Mahlokwane. But there's more than financial trouble: Mahlokwane constantly receives threats from drug lords who want her to stop the campaign against drugs.
"They warned me a few times," she remembers, visibly distressed. "They told me if I wanted to live long, I should stop my operation. They sent me threats via Facebook and through my volunteers. They also confronted me directly once and told me to stop what I was doing."
Nonetheless, Mahlokwane perseveres. She wants to build a rehabilitation centre and to purchase a bakkie (small truck) to enable her and her team to carry instruments, food, and to do the travelling to reach out to drug addicts.
"The aim of the rehabilitation centre," she says, "is not to generate money but to change our country to be a better place to live in and to create jobs for the youth. Currently, there is no rehabilitation centre around to assist. We only have one in Limpopo that assists, which is in Seshego at Polokwane, but it is forever full."
Phoebe Faith Mahlokwane is afraid of the drug lords and is weary of the lack of funds, but she is determined to help her community. As she says, "This is my passion, my zeal. This is what gets me out of bed in the morning, to see brothers and sisters free from drugs."