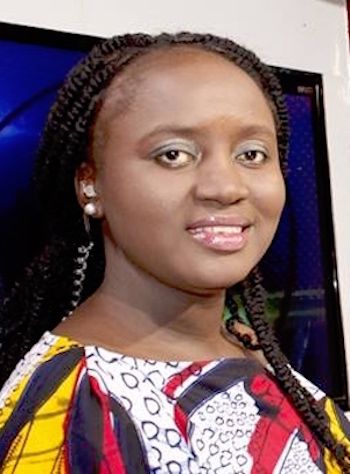 Summary. Princetta Williams is a brave Sierra Leonean journalist whose reports enlighten and empowers her fellow citizens. She has reported firsthand on issues ranging from the Ebola virus to mudslide disasters. On several occasions, she has been harassed and threatened with arrest for her work on subjects powerful people deem sensitive, but she continues to provide a platform of accurate and unbiased information.
Profile: Princetta Williams—a journalist whose work has appeared in newspapers, on radio, and on television—has one main goal: to provide a voice and platform for everyone in Sierra Leone, especially those, such as youths, who have not traditionally had a voice or platform. She helps them become active participatory citizens in helping shape government policies on development and social services that impact their lives. During the 2012 parliamentary and presidential elections, for example, she was at the forefront urging citizens through radio to participate in the election process peacefully.
In 2014, the Ebola disease was rampant in Sierra Leone, and Williams fought to protect people from it. Not only did she broadcast valuable information to the public, but she also visited Ebola treatment centers in order to be sure that her reporting was truthful and unbiased. "I couldn't stand the rate of deaths of the youth at that time," says Williams, "for doing the wrong thing in protecting themselves, mainly for lack of accurate and credible information on how to stay safe."
That same year, Williams mounted a rigorous media crusade exposing the increasing incidence of rape and other sexual violence in Pujehun District. Her work led to the government's providing a speedy court process in addressing the issues, even to the extent of seating a new magistrate.
In 2017, thousands of lives were lost in Freetown from mudslides and floods. Williams did her journalistic duty—rushing to the scene, raising an alarm about the gravity of the disaster, and calling for authorities to intensify rescue efforts. Her reporting helped get both the Sierra Leone and foreign governments to contribute money and other assistance, saving many lives.
However, her efforts have not always brought forth positive responses. She's been threatened by corrupt leaders, including law officials, for raising eye brows on sensitive issues and making people aware of their rights and urging them to take action. Early in her career, while working for Kalleone Radio and Newspaper in Freetown, Williams covered a story about a murder. Though the content of the story was credible, members of a prominent law firm threatened her with arrest. The incident reminded her that not everyone was going to approve of her reporting.
Williams is currently news anchor, reporter, and analyst for African Young Voices, focusing on corruption, abuse of power, and neglect of government facilities. Williams is planning on establishing her own Communications Consultancy, where she can continue her work on empowering lives.
Williams is unshaken and continues to do what is right. As Christian
Conteh, a colleague journalist working with Radio BBN in Freetown
put it: "Princetta is one of the most courageous and thorough journalists, devoid of bias and fear in her practice, and one that has made weighty sacrifices for her country amidst threats and intimidation."