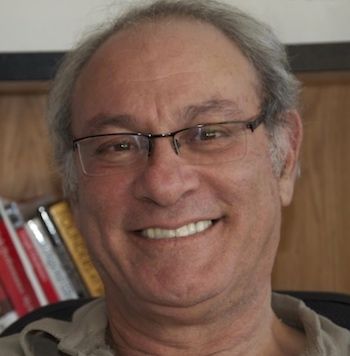 Summary: During the course of a project that began in 2017, veteran freelance investigative journalist Raymond Joseph has published over 50 articles as part of an ongoing anti-corruption investigation unearthing massive graft by the South African Lotteries Commission (NLC) . But exposing corruption in South Africa is not an easy job. Besides the financial and time constraints, Joseph has been threatened, defamed, and is facing lawsuits, as well as being harassed and threatened in Parliament.
Profile: Investigative journalist Raymond Joseph has been exposing corruption in South Africa as a journalist for almost five decades. Writing for the news website GroundUp, his stories are widely republished. Joseph is also a co-founder of The Big Issue South Africa, an award-winning monthly magazine that focuses on issues that are often under-reported in the mainstream media.
His big current project is the investigation of the South African Lotteries Commission (NLC) , begun in 2017 following a decision by a group of journalists from all over the world during the African Investigative Conference in Johannesburg in November 2016. "We were looking for an area subject to corruption that was common to many countries and lotteries fitted the bill," he says. So the group decided to jointly investigate the worldwide lottery industry in a project they called, Gaming the Lottery
In South Africa, a single commission, the NLC, regulates all lotteries in the country, including those organized by both non-profit entities and for-profit companies. It also serves as a grantmaker, providing registered nonprofits with funding to establish projects that, per its mandate, "improve the lives of everyday South Africans."
Since 2017, Joseph has published over 50 articles unearthing massive graft by the NLC. "The Commission. administers the Lottery and the grants it makes," he says. It's in charge of public funds and is a public entity—so it's expected to operate in a transparent manner and to be held to a high standard of public accountability.
"When we first began our investigation in 2017 we were keen to find out what was going on because they administer money paid by the public. We had no preconceived ideas that there was corruption involved. But given the amount of money they received there was a possibility that there was," says Joseph.
With the help of colleagues Anton van Zyl, Adi Eyal, Roxanne Joseph, and Damian Schlechter, and modern data analysis techniques, they began their investigation not knowing what they would find. What they unearthed was systematic corruption on grants—involving hundreds of millions of rands and the families of Commission bosses—that has been going on for years.
In some cases, some non-profit companies received millions of rands within months of being formed. Not only did they not have the experience to execute multimillion-rand infrastructure projects, they did not meet the NLC's requirement of a minimum of two years of financial reporting to be eligible for funding.
Joseph's reporting has led to calls for the NLC to be put under administration and its Board to be fired. Its Chief Operating Officer is currently on a leave of absence pending the outcome of an inquiry ordered by the minister with oversight responsibility for the Lottery.
But, those implicated in corrupt dealings in Joseph's reports did not take his revelations lying down, They fought back, with the Commission's COO launching a R600,000 defamation suit against him, GroundUp, and its editor. Another of the named beneficiaries has also sued for defamation.
"I have been defamed. Lies have been told about me and my family," Joseph says. "They claimed that their system was hacked and confidential information stolen. They called in state security agents to investigate me. I have been sued in my personal capacity and I have been accused of unethical journalism." It seems likely that the intention is to soil his reputation and stop media houses from publishing Joseph's investigative work.
As if this is not enough, a social media campaign was launched against Joseph. "Anyone exposing corruption in South Africa is attacked and trolled on Twitter and Facebook," said Joseph. Opponents organized a march against him and in support of the NLC. Joseph has also been harassed and threatened in Parliament by a beneficiary of Lotto funding.
But in spite of legal action and verbal attacks against his family, he has refused to be silenced. "The more I am attacked," Joseph says, "the more I keep on reporting. That is what journalists should do. They want you to go out and fight. I don't have the energy for that. My job is in journalism and, I expose corruption when I come across it."
An investigation of this magnitude is also demanding in terms of money and time. Most media houses only pay after publication and payment often does not cover the costs incurred. "Funding is a big problem," said Joseph . "A lot of the time we self-fund our NLC project, although we have receive some support in the form of grants. Investigative journalism is the most expensive kind of journalism. It takes time and resources."
But Joseph, like a giraffe, sticks his neck out and refuses to back down.
"We take precautions, myself, and my family," says Joseph. "But I am not stopping my reporting. Even if they harm me, others will continue. I don't give up easily and will continue to expose corruption involving the Lottery. To steal from the poor is unforgivable," says.
The NLC is hardly his first investigation. A veteran journalist, Joseph has worked in senior editorial and executive positions on a wide range of daily, weekly, national and regional publications. Further to that, Joseph worked with Code for South Africa, a Cape Town based civic technology lab that uses data and technology to drive social change. He has played a key role in training or mentoring journalists on the use of data, social media, digital tools to improve their work. Through this work Joseph managed to strengthen the story telling and audience engagement of news through data journalism and civic innovation in South Africa.
But Joseph, doesn't think he is a hero. "I'm only doing my job as a journalist," he says, as a former Knight International Journalism Fellow. Instead, he believes that the real heroes are the whistle-blowers who have risked their jobs and safety by leaking information and documents that have helped him exposemaladministration, nepotism, and corruption, most recently by the NLC. "They are the real heroes," says Joseph. "I hope that one day it will be safe to reveal their identities so that they can be honoured for taking a stand against corruption."