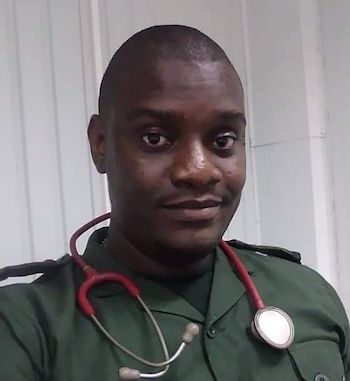 Profile: Reginald Cole is a clinician, a lecturer, and a Major in the Sierra Leone Armed Forces. He is one of the few Sierra Leonean doctors who have defied the odds in restoring the country's poor health sector. He has saved lives while boosting the prestige and morale of his fellow physicians—even at the risk of his own life.
During the virulent Ebola outbreak in 2014, Cole served as a clinician at several treatment centers in Freetown, providing medical care for hundreds of Ebola patients. Many doctors chose not to expose themselves to Ebola, leaving the country vulnerable to a national health threat, but Cole went to the front lines, realizing that competent medical professionals were needed to prevent the threat, not escape it.
Currently, Cole is a major participant in the ongoing fight against the COVID-19 pandemic. He gets paid very little, and he is certainly vulnerable to the virus, but, again, his priority is the health of others. He acts as clinician and coordinator in one of the Covid-19 treatment centers at the 34 Military hospital, where he has provided medical care to nearly 200 COVID-19 patients, most of whom were in critical condition.
"As the first local responder to COVID-19," says Cole, "I believe I enabled other doctors [to have] confidence and belief to work in COVID-19 treatment centers."
The daily threats to Cole are not only physical; he is also under extreme stress in his course of work. Nonetheless, he continues to render an unstoppable service to the people of Sierra Leone—this despite the many negative factors of his job. He admits to "that feeling when you want to do more but there are limited opportunities around that will attract other young Sierra Leoneans to venture into the health sector." Unarguably, doctors in Sierra Leone are paid extremely low wages, which, combined with the attendant risks, makes the profession very unattractive to others.
Cole works indefatigably, embracing the sick and suppressing his social life to save lives. Because of his experience with infectious diseases, he is a mentor to medical students, sharing not only his academic knowledge but also his general life knowledge. His sacrifices and his achievements have inspired many to follow his path.
Reginald Cole holds a Bachelor's degree in Surgery from the College of Medicine and Allied Health Sciences-University of Sierra Leone. He also has a Master's degree in International Public Health from the University of Liverpool. He has participated in extensive trainings on the management of infectious diseases and has been trained by the World Health Organization (WHO) on the management of COVID-19.
Continually risking his life to save others, he embodies the definition of a true hero.