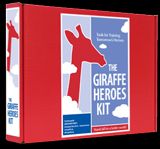 The Giraffe Heroes Kit
THE GIRAFFE HEROES KIT gives you all you need to guide 8-to-14-year-olds through well-tested steps for ~
learning about real heroes,
finding real heroes in their own world and
becoming heroes themselves as they create and carry out a community service project.
The contents and activities in this Kit are a distillation of the nationally recognized K-12 Giraffe Heroes Program created for classrooms, after-school programs, families who homeschool, and parents. It's everything we know about bringing out young people's innate compassion, and fostering the courage they need to put that compassion to work in the world around them.
Whether you're working with an afterschool group, in a summer camp, a classroom, or if you're home-schooling, you can use the Kit to guide kids through hearing stories of real heroes, telling the stories of real heroes theyfind, and then being heroic themselves as they create and carry out a service project that addresses a problem they care about. I think you may be amazed and delighted by what happens to them as they go through these steps.
We've included plenty of hands-on activities in this Kit to help young people become inspired to serve with courage and compassion. In this Kit you'll find:
Teacher's guide with ready-to-use lesson plans
DVD with classroom handouts and letters home
Videos of real Giraffe Heroes' stories and examples of kids' community service projects to inspire your classroom
Deck of Giraffe Hero "trading cards"
101 short scripts about Giraffe Heroes
Sheet of beautiful Giraffe Hero stickers
Bag of "Stick Your Neck Out" campaign buttons
Remember that our searchable database of real heroes is always free!
The Kit is $65.00