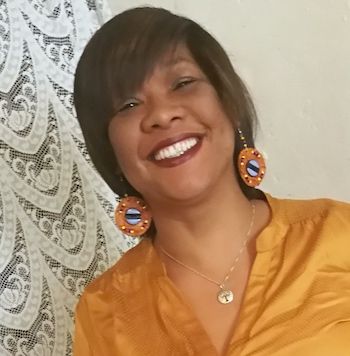 Summary: Roegchanda Pascoe fights crime and gangsterism in Manenburg, a community rocked by poverty and violence about 20 km southeast of Cape Town. She helped found the Manenberg Safety Forum, an organisation that seeks to combat gender-based violence and gangsterism. Driven by passion, Pascoe runs her organisation without funding. At one time she and her family became a target of gang violence. In spite of these challenges, Pascoe soldiers on, maintaining that activism is in her blood and that she will continue to fight until peace and safety is guaranteed for all.
Profile: Roegchanda Pascoe grew up during apartheid in Retreat, an informal settlement in South Africa's Cape Flats,. As a child, she was exposed to violence within her family and her surroundings. But while some of her peers became accustomed to violence or even joined gangs, Pascoe was of a different mind.
"From a young age, the urge to change things was burning in me," she says. "I always wanted to make people in pain and struggle feel better and bring about change."
She has indeed brought about that change, even at the risk of her own life and the lives of her children. She was a student representative in the 1980s and then a shop steward in the clothing factory industry. "I could never keep quiet in the face of injustice" she says. "That somehow always landed me in trouble."
In 2013 Pascoe and her colleagues used what little money they had to form the Manenberg Safety Forum with the goal of unifying and bringing peace to their community. A woman, she became its first Chairperson, in an environment that is predominantly patriarchal.
In a campaign code named "Reclaiming Our Streets", the Forum applied gang mediation strategies and involved government departments in an attempt to get rid of gangsters and drug lords in the Cape Flats area. In addition, through forming WhatsApp crime fighting groups on the Internet, Pascoe and her colleagues helped to detect crime at an early stage.
The Forum also educated members of the community on crime response mechanisms—"what to look out for and how to maintain safety." And since students are the typical casualties of South Africa gang violence, often killed in crossfire, the Forum also taught children what to do when they were suddenly confronted with a nearby shooting.
In addition, in an attempt to fight gender-based violence, Pascoe and her colleagues successfully lobbied and secured a trauma room for rape and domestic violence victims at a nearby police station.
These strategies were copied by other communities because of their success. They also attracted the attention of government departments, the City of Cape Town and civic society organisations locally and abroad.
Speaking out and implicating offenders in a crime is a risky venture and it is uncommon in South Africa's crime-infested communities. That didn't stop Pascoe from testifying in a murder case which she witnessed, in spite of the fact that her co-witness had backtracked after a bribe and that Pascoe knew very well that the consequences of her testimony could be dire.
Gang members and drug lords in Manenberg did not take Pascoe's actions lying down. Feeling cornered, they schemed against her and her family. Once, she said,
"in the early morning hours my whole house was shot through almost killing all my children." She and her family had to run away from their house to seek refugee at a safe house for the duration of the trial.
The risks are also financial. "I can reflect how many times I had to attend a meeting, taking my bread money and returning home with no electricity in the box and no food on the table," said Pascoe. She says that the Forum could not have survived without the contributions of her family to her work in a world where funding is scarce,. "The Forum started out with no bank account" she says, "merely working out of our own pockets. I must give credit to my ex-husband who has helped financially."
On the positive side, however, there is the positive impact the Manenberg Safety Forum has had on Pascoe's community: "By 2020 I had finally got Manenberg Safety Forum to a place where I have always dreamt it should be, in uniting everyone for a common goal to work toward healing and building the societies we residein and the country we would like to see it be."