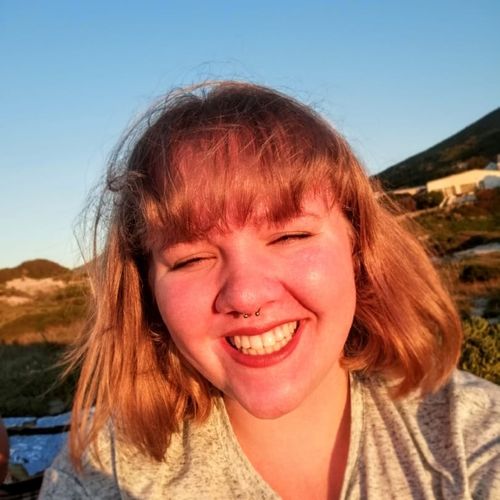 Summary. Ruby Sampson is a young environmental activist who inspires young people in South Africa and elsewhere to make their voices heard in order to stem climate catastrophe. Through awareness campaigns, climate education, and protests, Sampson reached out to her community and its policy makers, appealing for action. With the help of colleagues, Sampson founded the African Climate Alliance, an organisation that promotes climate education, Pan-African networking, and representation of people of colour in the global climate change movement. Besides losing valuable time during her matric year when she started ACA, Sampson has experienced cyber-bullying and death threats from those whose interests were threatened by her work. In spite of this, Sampson vows to continue working for the environment, adding that quitting would be a betrayal not only to herself but also to current and future generations.
Profile: It all started in 2013, when the Sampson family took their children on a trip across Africa in a big green truck fueled by vegetable oil waste and solar power in order to give their children the awareness and skills needed to cope with climate emergencies. One of the children, Ruby, would soon make it her lifetime work to address climate issues.
Disturbed by the dramatic effects of climate change, Sampson resolved to take action. In March 2019, still a teenager, she organised the first Cape Town March to submit a petition to the South African parliament demanding action to avert an impending climate catastrophe. Over 1500 people participated in the march, the vast majority of them students. A few months later, Sampson and her colleagues formed the African Climate Alliance (ACA), and she became its first leader.
"ACA," says Sampson, "was founded to educate and inspire youth climate activists and to create a space where everyone is heard." Since then, ACA has grown to over 300 students across South Africa and in 12 other African countries.
Prior to the Covid-19 pandemic, Sampson's movement organised strikes at the end of every term to protest against climate inaction. The protests were unique in that they were legal, nonviolent, and led by young people. Sampson is also involved in mentoring her peers and at the same time recruiting more climate activists in South Africa and the African continent.
In an extraordinary act of courage, Sampson and other youth climate activists wrote a letter to the President of South Africa warning of the imminent climate crisis and its consequences to the most vulnerable, if action is delayed.
"Unless we act now, we risk floods, droughts, wild fire, diseases, food insecurity, and total economic collapse. Water shortages, hunger, and health risks will impact the continent's poor the most," wrote Sampson.
Today Sampson leads the Pan-African sector of ACA. Receiving a sponsorship from the Centre for United Nations Constitutional Research, she has traveled to Greece, Belgium, and elsewhere to bring together African climate activists, sharing ideas and strategies in the face of increasing climate changes.
Sampson's climate activism has not been without challenges, however.
"The biggest sacrifice I have made so far for this cause was giving my matric year to the movement. I worked every day and night to ensure ACA was going to grow into a powerful and inclusive movement."
Nonetheless, she adds, "But honestly, this wasn't a sacrifice. I don't mind that my marks in matric were less than perfect, because it meant ACA thrived. A piece of paper stating I'm academically proficient means nearly nothing in comparison to a global movement that is working to save the lives of millions."
In 2019, Sampson was bullied and threatened on social media.
"During 2019 I did receive a few hilarious attempts to scare me through certain public social media accounts I have since closed, but honestly, once you've driven through the Northern Boko Haram Territory in Nigeria or survived malaria and typhoid at the same time, nothing rattles you anymore!"
In spite of all this, Sampson remains resolute about environmental justice.
"I don't feel I risked a lot, I gave freely and voluntary to this cause, and I will continue to do so until I die. I believe this is the most important thing I will do in my life, because my life, and the lives of millions, depends on it. There is therefore no risk too big in the fight for environmental justice. . . . I can put up with a few angry boomers if it means my generation and the one after mine thrives with enough resources to ensure a healthy existence.
"Quitting will never be an option, because by quitting I'm allowing my life to be stolen before my eyes—stolen by huge companies intent on destroying the planet I am set to inherit, simply for a profit."