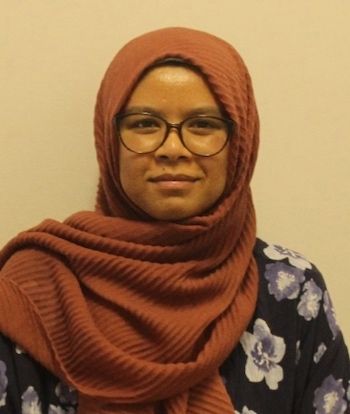 Summary: Starting at age 15, Rushda Booley sacrifices her personal savings and time to inspire and mobilize young people to giving back to the community, taking responsibility to help those in need. As Director of Charity Week, she leads a group of volunteers in raising funding to support humanitarian efforts and emergencies in South Africa and other parts of the world.
Profile: Rushda Booley, a 3rd year Bachelor of Science student at Stellenbosch University, started volunteering for her community when she was 15, growing up in Britain. In 2012, upon her return to South Africa, using her experience as a member of the Scouts, a worldwide youth movement, Booley worked with her peers in Cape Town to promote a culture of young people giving back to the community, taking responsibility, learning skills and religious tolerance and helping those in need.
'To be a good follower of your own belief system, you must also help others,' she tells her peers. 'Giving back to community is an important thing to do. You cannot be selfish with time.' Supported mostly by her own resources, Booley's inspiration prompts positive changes and her trainings build skills that help equip youth for life challenges.
In 2018, Booley started the first African chapter of Charity Week, a worldwide program of Islamic Relief held once a year during the last week of September to bring people together to promote humanitarian causes and the importance of giving back to save lives. She became the South African chapter's first National Director. In that role, she leads a group of volunteers in raising funding to support humanitarian efforts and emergencies in South Africa and other parts of the world.
Started with only 4 volunteers, Charity Week South Africa today has over 100 volunteers supporting its cause. It's a lot of work. Though the initiative actively runs only during the last week of September, planning and preparations start in January.
'We firmly believe we can make positive and long-term change if we do things together,' said Booley. She wants to find a way to get more people involved with Charity Week while at the same time creating a space for people to have fun, develop, and give back to the communities they come from.
Schools, sports clubs and youth organizations have joined hands with Charity Week for its period of fundraising activities. Individuals, companies and NGOs have come on board to offer support. Within a year of starting, with the help of fellow volunteers Booley had launched Giving Week in Johannesburg and Cape Town. Resources raised through Charity Week now support children and orphans at Osizweni Community Centre in Johannesburg. Other monies raised were used to drill a borehole in a dry community in Mali and to build a school in Malawi.
In some cases, initiatives led by young people like Booley fail due to lack of funding. 'In Charity Week,' she says, 'no one gets paid. People have to make posters and organize their own transport.'
Peer pressure can also be an obstacle as not all young people see why Booley sacrifices the way she does.
But Booley's energy and passion attract the support she needs. Appreciating the support she gets from those around her and her own ability to save enough resources for the project, Booley said, 'I have never been in a situation where those around me were no longer interested nor have we been faced with not having enough money to carry our charity work. For this I am very thankful.'
Rushda Booley has shown that with unity and passion, nothing is impossible. 'Everything done within this campaign is volunteer-led and this represents how a group of compassionate individuals can come together through their own initiatives and help bring positive change,' Booley said in a recent interview.
2019 Charity Week's theme was 'superheroes', to honor dedicated volunteers who fight all odds to make the mission a success. Booley is such a hero. She believes in respecting human dignity and working towards a greater good. In a world where unity and giving back to community is diminishing, Booley sticks her own neck out to encourage fellow South Africans to be of service to others.