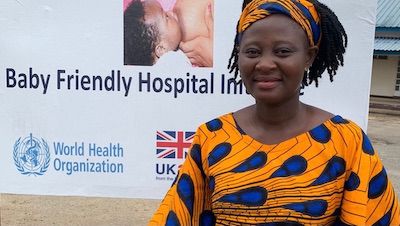 Summary: Seibatu Kemoh Allieu is a surgical community health officer in Sierra Leone. During her first four years working to provide ante- and post-natal care, as well as assisting with deliveries, she became frustrated with maternal deaths arising from obstetric complications that could have been prevented with better resources, improved knowledge, and more skills. Despite the occurrence of Ebola and COVID outbreaks, and despite the challenges of being a woman in a male-dominated industry, Allieu has continued to save the lives and improve the health of her fellow Sierra Leoneans.
Profile: In Sierra Leone, 50 per cent of all pregnant women in need of a caesarean section are unable to get one. Women frequently don't have access to safe surgery, resulting in many preventable maternal deaths and disabilities. Having gotten her degree as a Community Health Officer from Njala University and working as a community nurse in a Bo District health centre, Seibatu Kemoh Allieu wanted to change those statistics. A fellow nurse suggested that she apply for a Surgical Training Programme run by CapaCare, and she did.
When she enrolled in May 2014, Allieu became one of only four female students in the three-year-old programme, which had produced 44 graduates. In Sierra Leone, this was critical: A shortage of qualified professional health staff and limited capacities in training institutions have been major challenges facing the health sector, especially with outbreaks of diseases such as Ebola and COVID claiming doctors' lives.
Allieu was determined to provide care for women and children. Her training, which followed guidelines recommended by the World Health Organization, included how to handle the most common clinical and obstetrical emergencies, which, in the absence of treatment, would lead to disability or death. Allieu's training included six months of learning basic surgical skills, followed by an eight-month surgical rotation at a local hospital, followed by another eight months at a different hospital. She graduated in 2017.
Allieu was constantly resisted by doctors who believed that surgery should be performed only by male medical doctors or surgeons. She had to prove that as a woman and as a surgical community health officer, she was competent in her surgical and obstetrical duties. She achieved this by performing many successful surgeries, including hernia operations, appendectomies, and caesarean sections.
Allieu has been working in Bo Hospital since January 2018 and says that in her first 18 months as a surgical community health officer, she has saved many lives. Remembering one case in particular—a young woman with a ruptured ectopic pregnancy who lost more than a litre of blood and went into shock—Allieu said, "I had five minutes to react and save her life. It is these success stories that keep me going through the difficult times."
Allieu also braved the Ebola outbreak, treating pregnant women who were ferried to the hospital in debilitating conditions.
Over the last few decades, Sierra Leone has continued to face limited availability of surgical services. An estimated 25 percent of the population has an untreated clinical condition needing attention, and 25 percent of deaths were associated with a condition that might have benefited from surgical care. Medical consultants point out that the obstacles to good health services are the distance to hospitals, the lack of surgeons, the scarcity of blood, and the inability of some patients to pay for their care.
People like Seibatu Kemoh Allieu have helped to overcome some of those obstacles, even—as in Allieu's case—while fighting traditional discrimination to do so.