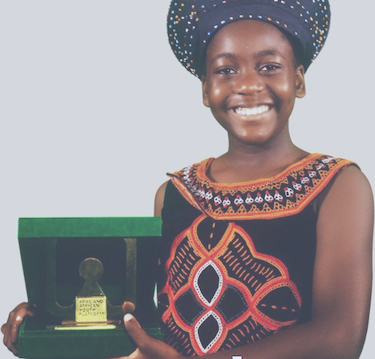 Summary: Stacey Fru, a young children's rights activist, fights child labour and illiteracy in South Africa and beyond. Through writing and public speaking, she has reached out to young people as well as adults across Africa on how to stay positive and safe in a world characterised by child labour and child trafficking. In 2016, and at only nine years old, Fru formed the Stacey Fru Foundation, an organisation that promotes education, safety, and security in South Africa and beyond. She has given up playing with young people of her age to make sure that her voice is heard. While she has not been directly attacked or threatened, she recognizes the risk of criticizing abusers of children's rights.
Profile: Born in Johannesburg, South Africa, to Cameroonian parents, Stacey Fru began her activism at the age of seven. Her parents didn't know about it at the time, but she wrote a book encouraging young people as well as adults to read and write—this in a country with a literacy rate below 15%. Fru soon became a best-selling international award-winning child author. In subsequent writings, she has raised concerns about illiteracy, poverty, inequality, religious freedom, safety and security, respect, love, family, and friendship.
Fru's readership includes people in Australia, Botswana, Cameroon, Egypt, Ethiopia, Ghana, India, Malawi, Namibia, Sudan, Tanzania, Zambia, and Zimbabwe. And while others use the proceeds of their success for personal use, Fru uses her literary income to provide books, clothing, computers, food, and training to people of all ages in South Africa.
In 2016, she formed the Stacey Fru Foundation and launched the Safety and Security for Children by a Child Campaign in order to teach children strategies to remain safe and secure in a country where child abductions, rape, and murder are not uncommon. In South Africa, a child goes missing every five hours.
"All I want to do," she says, "is to teach children how to be safe and secure. I wrote a play on this and my siblings and I acted this to over 8,000 children in various schools under the leadership of the Gauteng MEC for Community Safety. When a child gets lost, many other things happen to them, like murder and rape. And in most cases the world over, they become economic slaves."
Founded in 2018, the Annual AfrICAN Children of the Year Awards is the most important initiative of The Stacey Fru Foundation. During the awards ceremony, the foundation and its partners recognise 7-13-year-old children across Africa who are contributing positively to their community, country, and continent. The effort is to promote Africa to Africans as a continent of choice. The awards have been well received. So far, over 100 children from 15 African countries have been recognised.
Fru continues to dedicate her life to teach, motivate, and encourage others through public talks, writings, and television appearances. She forgoes playing with children of her age to concentrate on her human rights and philanthropic work:
"Every day that an activist steps out to stand for human rights, it's a sacrifice on its own. But in my case, I will not call it sacrifice. I will call it a shift in priorities. So, I have shifted myself from just playing without knowing if many other children have a right to play. I give up little things like play-dates in favour of public talks in my drive to make sure that my voice is heard."
And how long will she continue to do this?
"I have so much passion for my works, and I do not see myself quitting any time."