Success Ibrahim Sei Kamara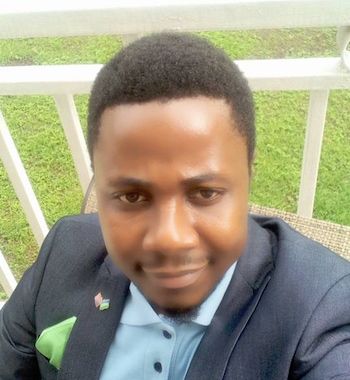 Success Ibrahim Sei Kamara is my name and I am the Country Director for Giraffe Heroes Sierra Leone. Before my appointment as Director of Giraffe Heroes Sierra Leone, I worked as Communications and Development Officer at the B-Gifted Foundation SL. I have also worked with The Gondobay Manga Foundation (a non-profit organization inspired by founder Isaiah Washington) as Public Relations and Communications Officer for six years.
I hold a B.A Hons in Mass Communications from Fourah Bay College, University of Sierra Leone, where I am also currently pursuing an LLB degree. I hold certificates in Communication Skills and Conflict Management from Mediators Beyond Borders (USA) and Alternative to Violence Project/Sierra Leone. I have a Certificate of Recognition from The National Ebola Response Centre (NERC) for my reporting on the Ebola outbreak of May 2014. I completed the Ebola Communications Training organized by NERC and the Center for Disease Control (CDC) in 2015 and hold a certificate in investigative journalism on Accountable Governance for Justice and Security from The UK Institute for War and Peace Reporting (2016).
My contributions to the communications and development sector include working with the B-Gifted Foundation's anti-gender-based violence programs. This work helped unravel the "culture of silence" that until then had shrouded gender-based violence (GBV), and added to the open reporting that is key its prevention. I worked directly with survivors of GBV in the field, monitoring, documenting, reporting and exposing incidents of GBV. I also worked as a facilitator, coordinating and holding sensitive sessions on cases of gender-based violence including rape.
Since 2012, I've worked extensively with local media in Sierra Leone including Believers Broadcasting Network (BBN FM 93) and the Independent Radio Network which helped to disseminate protection-from-Ebola messages as a way of curbing the disease which has now claimed over three thousand lives. I've volunteered with the Centre for Human Rights and Peace Education (CHRPE), Green Scenery, UNICEF and similar groups.