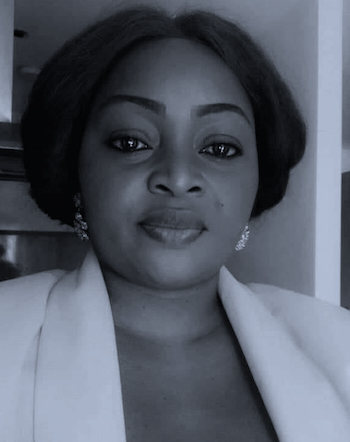 Summary: Tina Davies is a Women's Reproductive Health Specialist Nurse and an advocate for women's medical services—particularly services focusing on cancers—in Sierra Leone. She has fought sexism and lack of funding to provide not only medical care but also awareness and funding for causes that affect women.
Profile: For more than two decades, Tina Davies has been providing medical care, emotional and financial support, and advocacy for women in Sierra Leone, continually takes risks to provide women with the medical attention they deserve.
Davies is a Women's Reproductive Health Specialist Nurse. She was trained in nursing, midwifery, gynecology, and counseling, and she worked her way up in academic and medical institutions in England and Sierra Leone.
Davies has always been curious, and that curiosity enabled her to expand both her interests and her skills. She wanted to know as much as she could about breast cancer and soon became a specialist in that field. She wanted to know about the governmental and administrative factors that affected medical care and has participated—pro bono—in advocacy, awareness, and fund-raising activities, such as the "Saving Lives" project, in which she met with hundreds of pregnant women throughout Sierra Leone who were concerned about the threat of cancer to their pregnancy. She has also regularly traveled to England, bringing back to Sierra Leone materials needed for palliative care.
She sees infant mortality issue as a threat to human existence and as such sought further humanitarian assistance to curb this menace.
The challenges and risks have been numerous.
First are the biases against women—particularly professional women—in Sierra Leone which impede her work. Beyond professional discrimination, many people in Sierra Leone still do not trust women professionals.
Second is the lack of funding for appropriate medical services in Africa. She is frustrated as a result of the poor medical system in her place of birth and the fact that government provides little or no support to victims of breast cancer.
Davies also deals with a number of related issues such as the overall health, shelter and other social needs for pregnant women and lactating mothers, often using her own personal resources just because she has so much love and compassion for her fellow womenfolk.
Awareness is also a challenge. As Davies puts it, "In Africa, we have limited access to specialized care and thus limited knowledge of disease in families. This is a problem because awareness (and trust) are key to early detection [of cancer], which can save lives. Nurses in Sierra Leone are often limited to what they can learn from their patients, especially when it comes to sexual matters: You can ask a client, 'How is your malaria?' . . . but you can't ask, 'How is your chlamydia?' . . . or 'Hope you are recovering well from your termination of pregnancy.'"
Tina Davies also risks her safety with trips into rough rural areas to provide relief support to pregnant women and those suffering from breast-cancer living in the poorest communities across Sierra Leone. During the Ebola crisis, she risked her life by helping provide care to victims, overseeing clinical performance of swabbing and other means to help save the lives of affected persons.
And finally, she faces the daily tribulations of all nurses: "A few days ago, I lost a 30-year-old lady with breast cancer. If we did not have the gaps in access and available cancer treatment, that young lady should have still been alive with her husband and 7-year-old daughter. I personally supported her treatment financially and provided psychosocial support to the family, especially the husband."
Nonetheless, Davies has found her direction in life and has no qualms about pursuing it: "Our 'feminist' charm in combination with our good brains will help us break the glass ceiling. Knowledge, willingness to learn, skills, patience, respect, and empathy will take any professional a long way in their career, especially in the medical field."
And what does she do to take care of herself? "In terms of self-care, l let my hair down when I am socializing and enjoy life to the fullest, as tomorrow is not promised for any of us."
Davies trained as a general nurse at St Bartholomew School of Nursing and Midwifery, City University, London. She is also a Women's Reproductive Health and Breast Cancer Advisor at the Well Woman Clinic; Freetown Sierra Leone and also the new CEO of Cancer Sierra Leone Limited. She has many academic certifications in areas of clinical science, such as epidemiology and virology to name a few. She is an Alumnae of Middlesex University in London and also an awardee of the Order of the British Empire (O.B.E) from the Late Queen Elizabeth II.