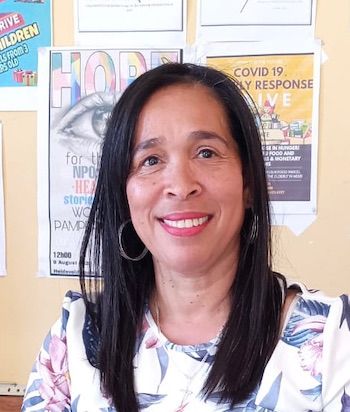 Summary: Vanessa Nelson, a community volunteer and activist, fights gender-based violence by raising awareness and offering support strategies, advocacy, and empowerment programmes in the Cape Flats area of South Africa. A rape survivor herself, Nelson formed Hope for the Future to give support to survivors of gender-based violence and to give hope to community members in distressed conditions. She has lost income and been threatened by criminals—and keeps going.
Profile: When only a child, Vanessa Nelson was groomed to be a leader by her father, who was actively involved in their community:
"My dad instilled the leadership skills in me," she remembers. "He always used to write letters to The Argus as an active citizen, complaining about issues affecting the community. He'd talk and I would write those letters."
At 16 years of age, Nelson was elected as the secretary of the Cape Flats Football Union. She held various other positions in a number of community-based organisations with a focus on humanitarian interventions and was an early activist.
Later on, when her son was diagnosed with a learning disability and she realised that the education system didn't support all children with such disabilities, Nelson fought the system to challenge the school's education policy.
Nelson endured an abusive relationship with her first husband. Based on her experience as a rape survivor, she formed Hope for the Future to inspire others in similar conditions. After the end of her marriage, she became a gender-based activist: "I am a gender-based violence activist because I was a victim," she says. "I became a survivor. I am a champion. I am standing up against abuse and violence against women and children."
Nelson bemoans the continued failure of the justice system in South Africa to ensure justice for victims of gender-based violence. "The system at the time when I was raped," she says, "failed me miserably . . . and continues to fail women and children who continue to suffer at the hands of perpetrators. I became an activist because of my lived experiences, and I want to give women extra support . . . to become self-sustainable and resilient independent women of substance and to step into their role of claiming back their control and self-love. Now, years later, I see that the system fails our women and children." And Nelson wants something done about that.
Nelson joins the world in various campaigns against all forms of gender based violence and at home, she says, "We have to march, protest, and raise awareness, as there is no system [that] protects us . . . It is only on paper." Nelson believes that the National Prosecuting Authority, together with the South African Human Rights Commission, should come on board in fighting the injustices faced by women and children who have been abused, raped, and killed at the hands of their perpetrators and should hold all magistrates accountable for getting it wrong as she believe they too have blood on their hands.
There is much more: the Cape Flats area experiences high rates of school dropout due to child pregnancy, so Nelson offers reproductive health education to dozens of young people in Heideveld and nearby communities to encourage them to complete their studies. She also organises rape crisis workshops to educate young people on the justice processes involved in rape cases, the types of rape, and their rights to their bodies. "Hope for the Future," she says, "will continue to hold rape crisis workshops in educating our youth because they are the future leaders. We need to capacitate them. They need to become rape councillors or rape facilitators so that they can hold this workshop. We will have to pass on the baton."
Arguing that "Rape is not only for women. Also men can be affected by rape . . . It is time to change the narrative," Nelson also facilitates men's workshops on rape crisis. In addition, she has launched a series of campaigns to commemorate the "16 days of activism" against gender-based violence.
Nelson focuses on other issues as well. She regularly holds a pensioner open market where she provides rice, potatoes, spaghetti, sugar, salt, bread, tinned food, fish oil, vegetables, and fruits to the elderly. "We support pensioners with food parcels without asking for their identification documents," says Nelson.
And it's not only the elderly who are served by Nelson's organization. Due to the high rate of poverty, Nelson runs a vibrant feeding programme to support families in need of food. "We have a feeding scheme that runs from Monday to Thursday. Our feeding schemes just evolved over the years. We serve in three different areas. We have three kitchens. We have 19 projects in total and most of them are active. Some are not active due to lack of funding," says Nelson.
Nelson implements most of her programmes in the Cape Flats, which is notorious for gang violence and crime. Thieves have broken into Nelson's personal business premises, but this and other risks have not deterred her efforts:
"I sacrificed my family in terms of family time. Even my health suffered to a point my brain could not take anymore. I had insomnia. I was exhausted. Now I listen when my body speaks," says Nelson. Though she sacrificed her husband's salary and her own income after closing her boutique and fish businesses for the sake of Hope for the Future, Nelson believes "That is what it should be: to sacrifice for others." And she cites Nelson Mandela to illustrate her philosophy:
"What counts in life is not the mere fact that we have lived. It is what difference we have made to the lives of others that will determine the significance of the life we lead." A believer in scriptures, Nelson maintains that she will never tire but shall remain loyal to her cause.