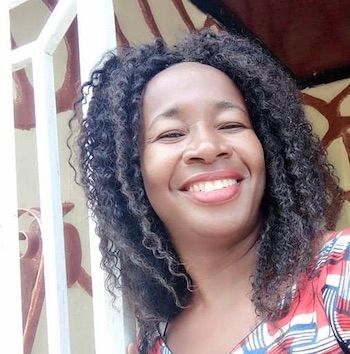 Summary: Veronica Fannah grew up poor in rural Moyamba. Like many Sierra Leone girls she couldn't afford to buy menstrual products and was fairly ignorant about the process itself—an ignorance reinforced by traditional cultural practices. In university, Fannah began to raise money to buy menstrual products for underprivileged schoolgirls as well as provide them with menstrual hygiene education. Fannah has been warned by traditional community leaders to stop her efforts.
Profile: "I was the fourth-born in a family of eight in Moyamba Town, rural Sierra Leone, and during my nascent days of menstruation, like many Sierra Leone girls I experienced the excruciating pain for lack of sanitary wear, including other menstrual products. These, coupled with other challenges, forced girls to miss school every month."
That is the testimony of Veronica Martha Fannah, whose mother had a difficult time trying to raise money for school fees and other basic family necessities. When Fannah first experienced menstruation, she had no "menstrual products"; she had to use old pieces of cloth. Even then, there was discomfort and fear of staining her school uniform.
But by the time Fannah enrolled in university, she was determined that other girls should not have to go through the same hurtful, embarrassing situations during puberty. She began to raise funds so that disadvantaged schoolgirls would have access to sanitary wear and other menstrual hygiene.
Fannah's efforts in this arena grew as she did. In 2018, she sold her property to found and finance the nonprofit Integrated Development Program for Teenagers—IDP4T. IDP4T helps girls learn about reproductive health, receive menstrual supplies, track their period cycles, discuss their concerns, and remove menstruation as a negative issue in their lives. IDP4T also counsels teenage mothers and provides services to young survivors of violence and trafficking. Its programs are open to boys as well as girls. Says Fannah, "If we leave the boys out, at the end of the day whatever trauma they are going through can be inflicted on the girls."
In 2023, Fannah and IDP4T published "My Period Tracker 2023", a book that helps girls and young women track their periods and have control over their menstrual cycle. In the meantime, IDP4T has lobbied the government for policy reforms to improve access to menstrual education and products. Fannah also contributed to ending a 10-year school ban against pregnant girls and teenage mothers.
Many people in Sierra Leone—including officials—are totally against Fannah's efforts. Their traditional cultures are largely responsible for Sierra Leone's having one of the highest rates of teenage pregnancy in the world, as well as supporting primitive practices such as female genital mutilation. These people have warned Fannah about becoming involved in menstruation issues. Some men have even made unwarranted sexual advances toward her. This "disturbs my mental state and also discourages me from making inroads," says Fannah, but it doesn't stop her:
"I am looking forward to a Sierra Leone where all young women and girls can have access to sufficient menstrual education and products, an environment that is favorable to go through menstruation, and also where women are treated with dignity for them to manage their periodic cycles."