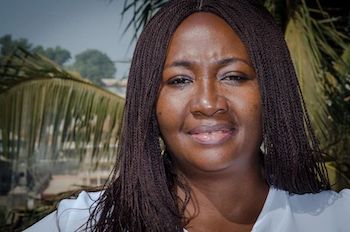 Summary: Victoria Renner is the founder and Executive Director of the Association for Women and Children at Risk—ACWR. ACWR is a nonpartisan organization in Sierra Leone established in 2015 to champion the rights of vulnerable women to live a successful life free from fear, intimidation, and poverty. As a result of her advocacy for women, Renner been attacked at a meeting, threatened by knife-wielding traditional leaders, evicted from her work place, and seriously injured by a hit-and-run driver in what she concludes was an attack connected with her work.
Profile: Victoria Renner is an advocate for women. As the founder and Executive Director of the Association for Women and Children at Risk—ACWR—she counsels vulnerable people in Sierra Leone communities and schools with a nonviolent approach to empowerment.
Currently, she works with several hundred disadvantaged women and girls on vegetable, rice, and cassava farms so they can attain food sufficiency and eventually live with dignity—free of fear, intimidation, and poverty. She also partners with adolescent girls in a Gara tie-dying project.
The path to founding ACWR, as well as the path to fulfilling its goals, has been difficult.
When she started the organization in 2015, Renner had no means of financial support. She sold her car in order to provide initial funding, even though transportation was needed to get to the rural communities she wanted to serve. As it turned out, however, money was the least of her obstacles.
In 2016, while facilitating a meeting about female genital mutilation, she and her colleagues were attacked. They fled the meeting and ran for safety when the traditional leaders—Soweis—began chanting songs and brandishing their knives and swords in the air.
In 2019, Renner was evicted from her Circular Road office in Freetown without any explanation; she concluded that it had to do with her work. She had nowhere to go and was rescued by a friend who gave her a tiny office space to use.
And as recently as May 2021, while riding on a motor bike, Renner was run over and left for dead by a hit-and-run driver. She sustained spinal, neck, head, and knee injuries. Again, she concluded that the incident had to do with her work.
Renner persists, of course. She has solicited and received funds from donors to establish training programs in agriculture, textiles, and industry; all these programs help vulnerable people get out of poverty and find their own voices so they can speak up for themselves.
Renner advises the next generation of women to avoid dependence because it breeds abuse. "We have to stand up for ourselves and do what is right," she says.
And her motivation? "Seeing vulnerable women evolve from a state of low well-being to a state of higher well-being keeps me going."
Victoria Renner was in 2020 spotlighted as being among the eight most influential women in Sierra Leone by Purposeful Productions and Caritas Freetown.
Victoria Renner has indeed become an outstanding example of success over hardship.