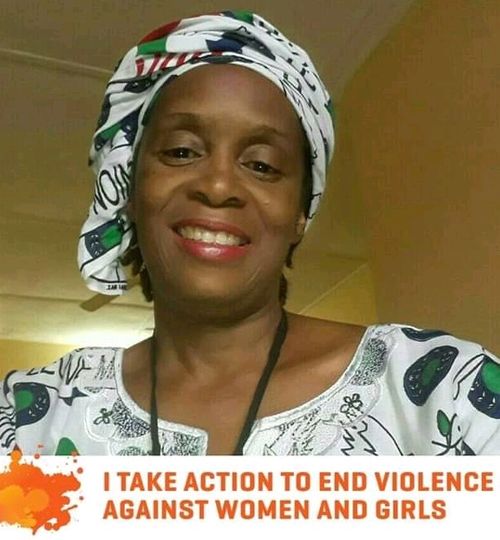 SUMMARY: Yasmin Jusu Sheriff is a Sierra Leonean human rights activist, barrister, women's rights campaigner and a radical feminist. She is one of Sierra Leone's veteran women and children's rights crusaders who has stuck her neck out for humanity over a period of 30 years. Her work has provided immense support to the recognition of women voices as a key part of the democratization process in Sierra Leone.
PROFILE: Yasmin Jusu Sheriff is a Sierra Leonean human rights activist, barrister, women's rights campaigner and a radical feminist who believes in the principles of fairness, democracy, justice and equity. She has been a fearless agitator for women and children's right and equity since 1991 and for that she's faced political intimidation and threats.
Sierra Leone's civil war broke out in 1991 and it had a devastating effect on all Sierra Leoneans. As the situation deteriorated, Sheriff and other women came together to demand a role in finding a solution to the war. In the past, civil society groups had been marginalized and politicized, but the women were seen as apolitical and the military were prepared to engage with them. Taking advantage of this opportunity, Sheriff and her colleagues opened the way for a wider, more active civil society.
In 1996, Sheriff and a few other women were actively involved in the restoration of democracy in Sierra Leone. A strong advocate for peace and democracy, she was instrumental in the participation of women in the democratization process in Sierra Leone by coordinating efforts to put more of them in positions of responsibility, especially on the issues that affect women. One early success was the creation in Sierra Leone of a Ministry of Gender, which reinforced the work of women activists and motivated them to continue. This impacted the wider society as well. Sierra Leone civil society is now not only vibrant and confident but also diverse and well rooted.
Sheriff's impact went beyond the borders of the country by energizing the many Sierra Leoneans living abroad. Through telephones, social media and other technology, more in the diaspora have become active in civil society.
In 1999 during a political interregnum in Freetown, Sheriff became an annoying voice to the Armed Forces Revolutionary Council (AFRC) regime that allied itself with the Revolutionary United Front (RUF). She mounted a very robust campaign against the AFRC, demanding the democratization of Sierra Leone and of the ACFRC's illegitimacy of controlling the state and wreaking havoc on the lives of many Sierra Leonean women, children and girls. Her slogan "Elections Before Peace" did not sit well with the AFRC. Her office was set on fire, threatening Sheriff's work and even her life. So she became even more agile and ferocious to fight for what is right against the brutal tyrants.
With human rights so integral to her work, Sheriff speaks out against arbitrary rule and the infringement of the fundamental human rights of Sierra Leoneans. She speaks truth to authority, and considers injustice and abuse of power as the enemy wherever she finds them. Most recently, she publicly condemned the actions of the Anti-Corruption Commission (ACC) for naming and shaming persons who were alleged to be involved in a corruption scandal at a public square. She challenged the ACC's action as violating constitutional provisions as well as the human rights of those charged.
Sheriff made ground breaking contributions to Sierra Leonean society through the Women's Response to Ebola in Sierra Leone (WRESL) Campaign, which was a coalition of more than 20 Sierra Leonean Women's groups. The Campaign complimented the government's efforts through national and international advocacy, public health education and humanitarian interventions targeting women and girls.
She continues to push for an increase of women in decision-making roles, pressing for laws which will provide a 30% minimum quota representation of women in the government and also in the private sector. Her ambition to see women protected and their rights upheld by the state and guaranteed by the constitution motivated her to push for better gender justice laws via "Legal Access through Women Yearning for Equal Rights & Social Justice' (LAWYERS) an organization which she is a founding member. Back at the Human Rights Commission (HRC) Sheriff was a vibrant advocate to uphold the rights of women to stand for chieftaincy in Sierra Leone.
The issue of gender-based violence is a constant priority of Madam Sheriff, evidenced by her contributions to the amendment of the Sexual Offences Act of 2012. Sheriff has provided pro bono legal services to women who have been sexually assaulted, injured and politically intimidated.
Madam Sheriffs has held posts as Executive Secretary for the Truth and Reconciliation Commission of Sierra Leone; she has been Vice President of Women Organized for a More Enlightened Society (WOMEN), and also Coordinator for the Network for the promotion of African Principles of Conflict Resolution and Reconciliation. Madam Sheriff was the Vice Chair of the Human Rights Commission of Sierra Leone (HRCSL) with proven track record. She is also the regional president of The Mano River Women's Peace Network (MARWOPNET) which was established in 2000 by women leaders from the 3 countries that comprised the Mano River Union-Guinea, Liberia and Sierra Leone with the express purpose of advocating for a sub-regional approach to bring about peace in the Mano River sub region.
Yasmin Jusu Sheriff is the daughter of former vice president of Sierra Leone, Salia Jusu Sheriff. She holds a Bachelor of Law degree from the University of London; a Master degree in Economics, Philosophy and Politics from Oxford University. As a child, she suffered the brunt effects of injustice, abuse of power from the tyrannical regime of Siaka Stevens. Her father was the then leader of the opposition Sierra Leone Peoples Party in the dark ages of Sierra Leone. So from her early years in the 1980s, Sheriff was infused with the zest to fight against all forms of injustices, abuses of power and dictatorship. She became a high-spirited, tenacious and strong voice for women's rights and for upholding the fundamental democratic principles for an equal and just society where human rights are protected and abuses spark the conscience of the nation.