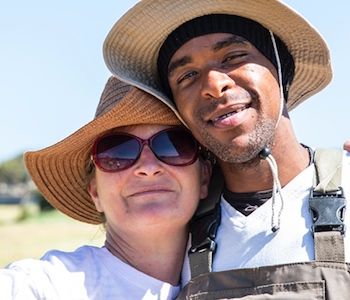 Summary: Georgia McTaggart, a Cape Town resident with big plans and a tiny budget, founded Help Up, a non-profit organization to protect the environment and create economic opportunities for the very poor. Through Help Up, McTaggart organizes clean ups in and around Cape Town, ridding these areas of unwanted plastic waste that pollutes the environment and causes catastrophic breakdowns in the ecology of precious river and ocean biomes. McTaggart and her team face risks of falls on slippery river banks and of contracting illnesses from polluted river water.
Profile: Georgia McTaggart believes positive change starts with an individual. In 2015 she started investigating the amount of carbon she was personally emitting into the atmosphere through her lifestyle choices. 'I started to investigate my personal carbon footprint in 2015 and after researching how I could lower my personal footprint on the planet. I immediately began to take steps to do just that,' said McTaggart. She started by recycling, eco-bricking, making consumer choices based on foodstuff packaging, stopping eating meat products and by picking up litter in her neighborhood, informal settlements and on beaches.
As if this is not enough, she became a volunteer on beach clean ups and in the Masiphumelele informal settlement. McTaggart formed a kids' club in the South Peninsula settlement and started organizing clean ups in Masi. 'I started a kids' club in the area,' she notes, 'and started organizing clean ups in the informal settlements. We would also take the kids to the beach to enjoy the day at the seaside, but also to clean up the plastic that could pose a danger to marine life."
Driven by passion to serve the environment and her love for people, in 2018, McTaggart formed Help Up, with the primary objective of creating income opportunities for the homeless people in her neighborhood through regular clean ups in the streets, rivers and beaches. She sold her own car to finance the project at its formation, including funds needed money to buy food, T shirts, equipment and to pay the homeless and township dwellers involved in the clean-ups. Her first Help Up event coincided with the Mandela Day in July 2018. The movement has now expanded to include people from townships, informal settlements, homeless people and committed volunteers.
McTaggart feels satisfied and inner joy to see people from different backgrounds working together to remove litter that could pose danger to the environment. 'I feel inspired when I see people from different walks of life all working together to achieve a common goal,' she says. 'I also love going to clean-up sites which are really messy and knowing that after three hours, our team would have cleared it up and restored the natural beauty of the area. It gives me with a feeling of great achievement, satisfaction, and joy to see a job well done.'
Besides helping other NPOs who want assistance with their clean ups, her organization created a franchise model where people from informal settlements and townships can earn cash by performing satellite clean ups in their own neighborhoods. Participants have to prove the success of their clean-up and then get paid using electronic banking. As a result, her organization has a clean-up every Saturday in Langa and Khayelitsha.
There is also a Black River clean-up every Sunday. 'Help Up has removed over 80 tons of plastic and other trash from the Black River catchment area since February 2019,' she says, "and we look forward to using our hands and hearts to clean more river catchments in Cape Town, as well as to inspiring people to start making changes at the supermarket shelf, learning to manage their own neighborhood waste issues and working more closely with their local councils in order to make positive changes for the environment and for themselves.'
An efficiencies consultant by profession, McTaggart has to constantly create balance between her high-pressure career commitments and her environmental activities.