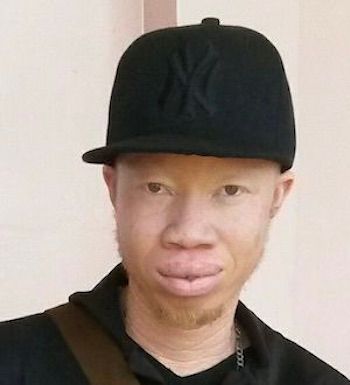 Summary: Regardless of threats and risks of violence, Mohamed Kelfala Sesay has fought for citizens' rights, freedom of expression, and unfettered media. An albino, Sesay has been discriminated against throughout his life, including being threatened by residents of a local community for carrying out his work as a local journalist. His current fight is for the right to report freely on the welfare and well-being of persons living with albinism.
Profile: It all started a decade ago when Mohamed Kelfala Sesay began his career as a reporter and activist. After he had covered and reported on a local football match at Bambara Town in Freetown, he was verbally attacked via phone and threatened by unknown residents of the community; they didn't want a violent incident perpetrated during the game to be reported. Sesay shared his ordeal with the Sierra Leone Association of Journalists, of which he is a member. The culprits were never identified.
An albino, Sesay is the Programs Officer for the Sierra Leone Albinism Foundation, which promotes the well-being of people in Sierra Leone living with albinism. The organization, and Sesay, believe that albinos deserve to live lives of dignity—devoid of discrimination, name-calling, mudslinging, and lack of proper health care.
Sesay faces discrimination daily: "I get calls and messages from unknown people counseling me to pipe down on my activism and media efforts. . . . I have been called out disrespectfully with all kinds of names in open streets while on errands to check on my fellow albinos, but am not moved by such acts."
But there is a bigger drawback to the kind of work Sesay does. Just like other African governments, for over a decade the Sierra Leone government has refused to heed the call of Sesay and his organization to have dermatologists diagnose and treat the condition of cancer in people living with albinism. And this, says Sesay, has caused the demise of four of his kinsmen in the last four years.
He and the Sierra Leone Albinism Foundation have received help from the Open Society for West Africa (OSIWA) to work on projects that promote the rights of albinos and that help build a resilient network for such rights in Sierra Leone, but it's not always enough: "If the government, in particular, doesn't come to the aid of persons living with albinism," says Sesay, "we will continue to die in silence. For close to a decade, I have been calling on the government to treat albinism as a significant component of their efforts, but we have only managed to gain attention from OSIWA."
With the support of OSIWA in early 2022, Sesay carried out a survey on the level of discrimination against albinos and discovered that many of them are not only discriminated against but also don't reach their full potential in life: "Many albinos lack basic academic qualifications to help them earn a respectable livelihood."
The 2011 Disability Act, which Sesay contributed to, has categorized albinism as a disability and strengthened the law to protect people living with the condition. It sternly warns citizens to desist from discrimination, name-calling, or interfering with the rights and freedoms of albinos. However, many institutions both within and without government have reneged in creating a space to accommodate albinos, especially in respect of jobs.
Sesay remains determined: "I have been laughed at, discriminated, and rejected due to my condition. I lost my dad at an earlier age and was brought up by my mum, a single mother. I was visible to manipulation and sometimes slept on an empty stomach. Whatever I have today . . . is my sweat and blood. I believe that we are all humans created in the same way, and no one has the right to look down on us."
Sesay vows that he will not stop his activism until issues around albinism are given the attention they deserve.