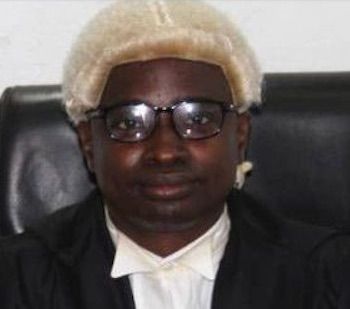 Summary: Justice Momoh-Jah Stevens has been a foe of gender-based violence and a diehard supporter of human rights, justice, and democracy for decades. Even in the midst of intense politicization in Sierra Leone's justice system, and even after threats to his life, Stevens continues to fight for the rule of law. He has risen in the judicial ranks from Magistrate to High Court Judge to Justice of the Appeals Court.
Profile: Momoh-Jah Stevens is a justice of the Appeals Court of Sierra Leone. His work has addressed human rights abuses, equity, and gender-based violence. He is a zealous fighter against rape and sexual assault.
Plato once asserted that "Justice in the life and conduct of the State is possible only if it first resides in the hearts and souls of the citizens." This best describes Stevens. He believes that we are what we repeatedly do, and excellence is not just an act but must be a habit. He has shown that excellence in all his years of practice.
For example, Stevens recently presided over the prison trial of Rtd. Major Paolo Conteh, a former minister of the then APC government, which is now the main opposition party in Sierra Leone. Conteh was charged with treason but the trial soon became a political battleground between political factions and generated passionate discussions among civil society activists, journalists, and politicians from a broad spectrum of society, some who saw him guilty and others convinced that he'd been framed. Dispensing equitable justice is not easy in a society influenced by politics and tribal prejudices but Judge Stevens resisted this chaos with courage and integrity. Political interference and unnecessary delays in legal proceedings did not sway him from making sure Conteh got a fair trial (he was convicted on a lesser charge).
For over a decade, Stevens has been providing support to women and girls who are victims of rape and sexual violence, using his capacity as a judge to combat gender-based violence—issues that have sparked a wide range of attention by the public. He has dispensed justice fairly. Recently, he sentenced 16-year-old Alie Bongo to five years' imprisonment for having sexually penetrated a child and but ruled that, because the offender was 16 years old, he would begin serving his sentence at an Approved School and not be transferred to an adult Correctional Center until he was 18.
Prior to his appointment as Justice of the Court of Appeals, Stevens had worked in almost all political districts of Sierra Leone.
Stevens has been threatened with murder many times for having sentenced lawbreakers, but these threats have never swayed him from standing for the truth and for restoring justice in his jurisdiction.
Stevens holds an LLB Honors Degree from Fourah Bay College, University of Sierra Leone, where he lectures in Criminal Procedure and Constitutional Law.